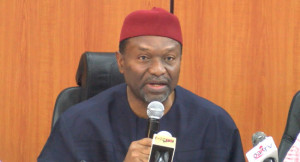 Minister of Budget and National Planning, Udo Udoma, has blamed the slow growth of Nigeria's economy on weak production and manufacturing sector.
Udoma told members of The Situation Room, a civil society group, on Tuesday in Abuja, that economic downturn had made the Federal Government to focus on the fundamentals of issues frustrating the system.
According to him, the government noted these factors and planned the 2017 Budget to address the challenges and restore the economy to the path of diversified, sustainable and inclusive growth.
"The flaws with the Nigerian economy is simply not producing enough, not growing enough, and not manufacturing enough.
"We simply were not producing; we were just consuming and that was the fundamental flaw and crude oil simply papered it over.
"So, in any way, it is an opportunity for us to go back to the fundamentals. Ethiopia is growing at 10 per cent a year and has been doing that for the last 10 years; it does not have any crude oil.
"It went back to the basics and those basics are agriculture and manufacturing and services, and so, we just have to go back to those basics and get it right.
"Our approach to the 2017 Budget is the need for Nigerians to go back to those basics to create the environment for production,'' he said.
The minister said that the government planned to redirect the economy with its Economic Recovery and Growth Plan (ERGP) based on three strategic objectives to restore and sustain growth.
He said that other plans were to invest in the people and to build a globally competitive economy by focusing on agriculture, energy, job creation, improved capital development and improving the business environment.
He urged Nigerians to pay taxes "because at the moment Nigeria did not have enough revenue coming to the government from taxes", adding that tax collection stood at just six per cent of Gross Domestic Product (GDP).
Udoma said that most countries' tax collection stood at over 20 per cent, with average for Africa at 16 per cent in GDP, and insisted that Nigeria had to work hard to get more revenue.
He said that people believed that Nigeria had a debt problem, but explained that what the nation had was revenue problem "because with enough revenue the current debt will be manageable.
The minister said that one of the fastest ways of getting the economy to turn around was through agriculture because Nigeria had both manpower and land.
He urged Nigerians to grow enough yams so that the country could export raw and processed yams by taking advantage of the demand.
"All this is about growing what we eat and produce what we consume; so, let us work hard to achieve that.''
He said the government had also put plans in place to encourage industralisation and had also made plans to enhance its transportation so as to make Nigeria the engine for production in Africa.
On her part,  Zainab Ahmed, Minister of State for Budget and National Planning, said that Nigeria was overly dependent on consumption.
She, however, said that consumption in itself was good because it indicated that the country had a good market.
Ahmed said that the challenge Nigeria had was that it was dependent on consuming imported goods "which is our foreign exchange problem".
She expressed hope that with all measures the government had put in place, the nation would move away from being import-dependent in consumption to consuming locally-produced goods.
"We need to collectively begin to speak about the fact that our population is growing at the rate of 3.5 per cent and this does not add up.
"It means that our growth is not catching up with the increase on our population; that is a problem that we need to begin to solve,'' she said.
The minister urged CSOs to lead the discussion on how to address the population growth and also undertake an exercise on funds spent on all sectors, both at federal and state levels.
In his contribution, Director-General, Budget Office, Ben Akabueze, urged Nigerians to help in monitoring the 2017 Budget for proper implementation.