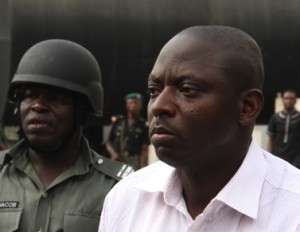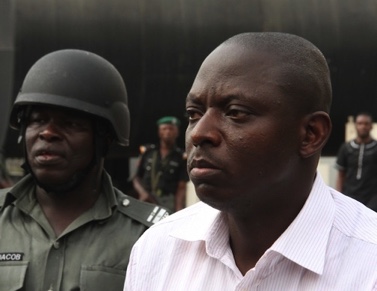 A prosecution witness, Chukwuma Orji, has revealed how a former Director General of Nigerian Administration and Safety Agency (NIMASA), Patrick Akpobolokemi, converted N496million from the office of the National Security Agency (NSA) to personal use.
Orji made the revelation during the trial of Akpobolokemi and five others on a 13-count charge of stealing and fraud proffered against them by the Economic and Financial Crimes Commission (EFCC).
They are accused of stealing N754million belonging to the agency.
Akpobolokemi's co-defendants are; Ezekiel Agaba, Ekene Nwakuche, Governor Juan, Vincent Udoye, Adegboyega Olopoenia and a company, Gama Marine Nigeria Limited.
Orji, an investigating officer with the EFCC, while being led in evidence by Mr Rotimi Oyedepo said "The first defendant (Akpobolokemi) raised a memo to the office of the NSA.
"The memo requested the sum of N496million and attached to the memo was a detailed table describing how the money was to be spent.
"After the money was disbursed, the first defendant made a request that the said sum be transferred to a private Zenith Bank account with number 1013961926."
Orji told the court that investigations by the EFCC revealed that the money was laundered through awarding fictitious contracts to some companies which were never executed.
"Two of those companies were Arrow World Consulting and Kofa Fadan Nigeria Limited, we spent two days searching for the location and addresses of these companies.
"Investigations revealed of the sum of N11million was transferred to one Nkechi Aneke, who was a relative of a lady Captain working in NIMASA.
"We invited her to the EFCC where during interrogation she claimed she had no idea how the money got into her account.
"She eventually refunded the money back to the Commission," he said.
Orji further revealed that Nwakuche, one of the defendants, had illegally made eight withdrawals of N3 million each from the NIMASA account on the instruction of Agaba his co-defendant.
Justice Raliatu Adebiyi adjourned the case to November 30 for continuation of trial .