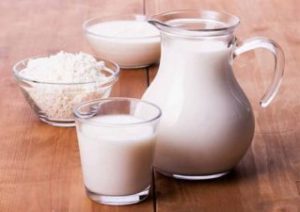 Nigeria is on its way to limiting importation of milk as it forms alliance with West African and European dairy farmers on local production.
The alliance is expected to ensure that the demand gap for dairy products in the country is closed.
This was made clear during a two- day roundtable hosted by Arla Foods (producers of Dano milk powder), CARE Denmark, Billital Maroobe (RBM), Danish Agriculture & Food Council (DAFC) and the Nigerian Federal Ministry of Agriculture (FMARD).
The roundtable themed 'milk way to development' was focused on how to improve the livelihood of farmers and in the process create job opportunities.
"The alliance focuses on avoiding the negative impact of imports of powdered milk into the region and greater focus on involving local farmers in the value chain so that milk will be more available and safer and be processed into higher value products so that everyone will benefit. The alliance will facilitate technology transfer and investment which will definitely be of benefit to local farmers", said Program Coordinator of Care Denmark, Rolf Hernoe.
Also speaking at the occasion, the Minster of Agriculture and Rural Development, Chief Audu Ogbeh, represented by Director, Animal Production and Husbandry Services, FMARD, Dr. Egejuru Eze said it was a right move in the right direction as it goes in line with the federal government agenda.
"Efforts of this nature will increase capacity to meet local dairy demand. Presently the annual national dairy output and demand are estimated at 700,000mt and 1,300,000mt respectively, giving a supply gap of about 600,000mt", he added.
The Commissioner, Department of Agriculture, Environment and Water Resources, Economic Community of West African States (ECOWAS), Tchambokou Ayassor further said the alliance was needful, as it will improve business through driving of policy formulation.
He said, "A gathering like this is very important for the economic development of agriculture in the sub-region as it will give opportunities for technology transfer, development of cross boarder professional association and formulation of policy framework that will foster a faster development of the dairy sector and agriculture business in West Africa."
Copyright Ships & Ports Ltd. Permission to use quotations from this article is granted subject to appropriate credit given to www.shipsandports.com.ng as the source.