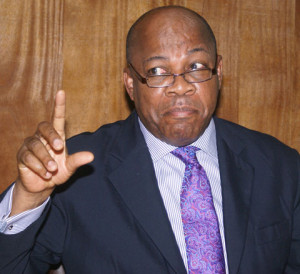 Maritime lawyer and former president of the Nigerian Bar Association (NBA), Olisa Agbakoba (SAN), on Monday attributed Nigeria's under-development to incompetent leadership.
He said the country cannot attract Foreign Direct Investment when it is under a "non-performing government."
Agbakoba spoke at the second plenary session of the ongoing Annual General Conference of the Nigerian Bar Association (NBA) in Lagos.
The session had the theme "Institutionalising African Investment.
Agbakoba urged lawyers to put more pressure on government to perform.
He said no progress has been made towards addressing the power deficit, adding that he uses about 10 generators to run his offices.
The ex-NBA president said bad leadership was manifest in the deplorable state of the Apapa-Oshodi Expressway which is the gateway to Nigeria major seaport.
Agbakoba said it takes him an average of three hours every day to get to work due to poor state of Nigerian roads.
He said, "Despite all of the resources allocated to power, we don't have power. As I stand before you, I run about 10 generators in various offices.
"The vice president spoke very eloquently but in real terms, we as lawyers are responsible in the context that we must put pressure on government.
"No one is going to come here on foreign direct investment with the kind of, for want of a better word, non-performing government that we have. It's not possible.
"Despite the huge market – 200 million Nigerians – we are very poor. So, sometimes we sit here in fancy suits; but go out to the streets.
"I am a maritime lawyer in Apapa district. The Apapa district contributes 30 per cent of Nigeria's national budget. Yet it takes three hours for me to get to work because trucks and tankers have blocked the entire place.
"So, let's not pretend. We must look for leadership. And I think that is the central challenge."  
Copyright Ships & Ports Ltd. Permission to use quotations from this article is granted subject to appropriate credit given to www.shipsandports.com.ng as the source.