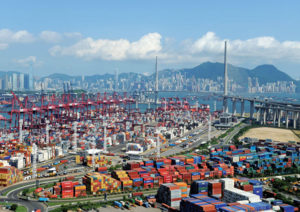 In 1991 the federal government established the Export Processing Zone Act, and established the Calabar site. Since then the country is perceived to have added a major policy package to make the economy more attractive to foreign investors.
Export Processing Zone (EPZ) is an economic commission for foreign direct investors to operate free from the Nigeria tax laws, levies, duties and foreign exchange regulations.
Free Trade Zones (FTZ) are special economic zones located in a geographic space, where goods may be landed, handled, manufactured and re-exported without the intervention of custom authorities. Within these zones, trade barriers and custom duties which prevail in the rest of the country are minimal or non-functional. Corporations which set up in FTZs may be given tax breaks as an incentive. The aim of this is to enhance foreign exchange earnings, develop export oriented industries, and create employment opportunities. The potential benefits make FTZ desirable, especially for developing countries which need foreign investment to boost growth.
Since the act came into being, the operation has been gaining momentum although most Nigerians are still at loss with the real benefits. Nigeria has a number of FTZs. The Nigeria Export Processing Zones Authority (NEPZA) lists 32 FTZ's but only 14 are listed as being operational. About nine are said to be under construction, and others are in various states of pre-construction and license suspension. Some of the well-known functional FTZ in Nigeria include the Calabar Free Trade Zone (CFTZ), Kano Free Trade Zone (KFTZ), Tinapa Free Zone and Resort, Lekki Free Zone, and the Lagos Free Trade Zone (LFTZ). The licensing, monitoring, regulating and facilitating of investment into the FTZ in Nigeria is vested in the Nigeria Exporting Processing Zone Act 63 of 1992.
Proponents of the economic package believe that setting up free zones in Nigeria make economic sense. Part of the argument is that Nigeria's status as a major oil-producing country, as well as its large consumer market, is some of the enticing advantages that could persuade investors to take advantage of the FTZs. Available indicessuggest that they have. In 2014 it was said that the Lagos Free Trade Zone had attracted 48 investors with investments close to 1.1 trillion naira. Other FTZ have also witnessed considerable investment as well despite the persistent problem of inadequate power supply, security challenges in some parts of the country, and government policy somersault.
From investigations, Free Trade Zones present a competitive vehicle for driving economic growth. Experts believe it has proved to be the case in a number of Asian countries, like China. The success of FTZ in these countries has encouraged other developing countries to join.
As part of the incentives, goods released into the Customs territory are classified as imports and subject to all applicable duties and levies as applicable to Free Trade Zone products.Equipment and consumables to be used in the construction of facilities may be imported into the Free Zone by a Licensee free of any taxes, duties or levies.
Part of the incentives involves attracting and negotiating foreign direct investment with transnational corporations in Nigeria.
But while this sound mouth-watering, there have been calls for measures to enhance the Act to achieve the needed vision which many believe is still at the scratching surface.
There will also be need to create the platform to get accurate, current data on monetary value ofFTZ incentives since inception, as well as the impact of FTZs on local and national economy which is currently lacking.
While there are calls for additional incentives to attract more investors even in the face of economic challenges, SHIPS AND PORTS DAILY believes that it is difficult to see how NEPZA can make such recommendations  to the federal government without scientific data to evaluative adequacy or otherwise of such incentives.
To make this possible, internal and external studies are recommendedbecause NEPZA isstill largely civil service in operation and this to a large extent could affect access to information.
There is also a snag when we look at global studies which assert that there arevery few successful FTZ experiments in the world. This is why the authorities should not see it as an avenue to line personal pockets but as a way to transform the beleaguered economy.
Nigeria could borrow from success examples like Costa Rica that recorded shift of FDI's towards high skill operations providing employment opportunities in higher productivity and wage activities.
It also achievedincreased firms' competitiveness by drawing them into global markets as relationships result in improvements in product quality.
Almost 50 per cent of FDI's to Costa Rica came in through FTZ program.
In Nigeria, there are still bottlenecks. In the case of Lekki EPZ, the Lagos state government acquired over 16, 000 hectares of land, which is home to twentysix villages. The complaints of unpaid compensations should be completely addressed to heal old wounds.
Copyright Ships & Ports Ltd. Permission to use quotations from this article is granted subject to appropriate credit given to www.shipsandports.com.ng as the source.