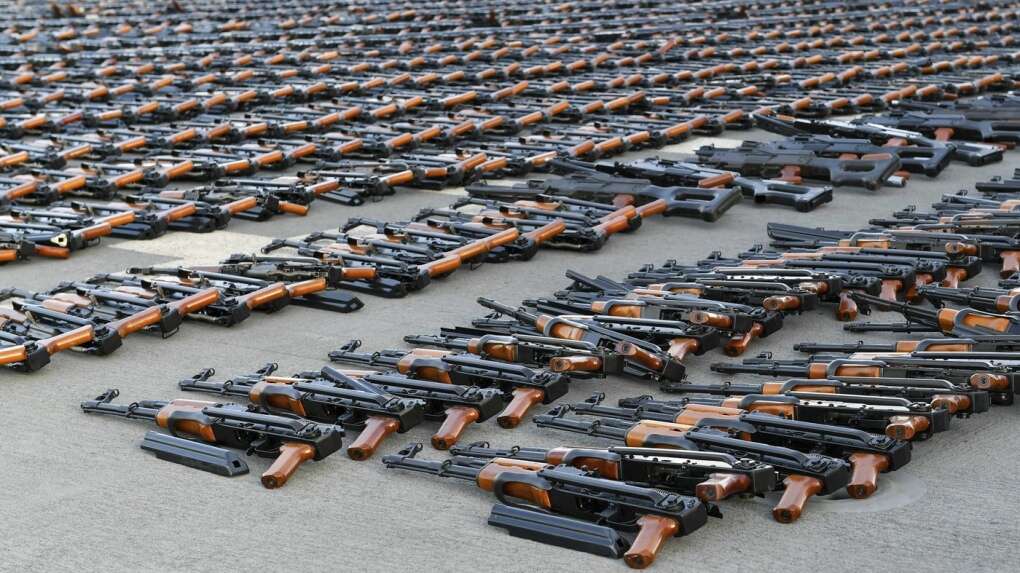 French naval forces seized thousands of assault rifles, machine guns and anti-tank missiles headed from Iran to Yemen amid the country's long-running war.
The weapons were forfeited by the French forces in January but Iran did not immediately acknowledge the seizure.
Images of the weapons allegedly meant for Houthi rebels released by the United States military's Central Command showed them to be similar to others captured by American forces in other shipments tied back to Tehran.
The US did not specify in its statement on Wednesday which forces had led the operation, merely saying it had "supported" a "seizure by partner naval forces".
The announcement was made as Iran risks increasing western pressure over its shipment of drones to arm Russia during its war on Ukraine, as well as for its ferocious months-long crackdown targeting protesters.
Regional tensions have also increased after a suspected Israeli drone attack on a military workshop in the central Iranian city of Isfahan.
The seizure occurred on January 15 in the Gulf of Oman, a body of water that stretches from the Strait of Hormuz, the narrow mouth of the Gulf, through to the Arabian Sea and onto the Indian Ocean.
US Central Command described the interdiction as happening "along routes historically used to traffic weapons unlawfully from Iran to Yemen."
A United Nations resolution has prohibited arms transfers to Yemen's Iranian-backed Houthi rebels, who seized the country's capital in 2014 and have been at war with a Saudi-led coalition supporting the country's internationally recognised government since March 2015.
The French military did not respond to requests for comment about capturing the weapons.
While France maintains a naval base in Abu Dhabi, it typically takes a quieter approach in the region while maintaining a diplomatic presence in Iran.
Iran has long denied arming the Houthis, though western nations, UN experts and others have traced weaponry ranging from night-vision scopes, rifles and missiles back to Tehran.
Copyright Ships & Ports Ltd. Permission to use quotations from this article is granted subject to appropriate credit given to www.shipsandports.com.ng as the source.