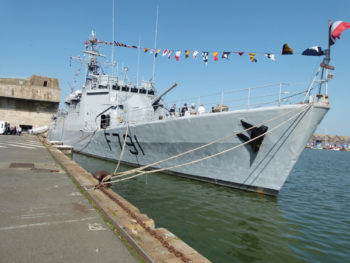 A French Naval Offshore Patrol Vessel (OPV), Commandant L' Herminier, on Thursday called at the Nigerian Naval Dockyard in Lagos.
Lt.-Com. Mathias Canone, who led the French naval team, told journalists that the two-day visit was aimed at strengthening cooperation between the navies of both countries.
"We will be cooperating in safety exercises as well as diving and running of different techniques for boarding," said the visiting French navy commander.
Receiving the vessel and crew members, Rear-Adm. Ferguson Bobai, Flag Officer Commanding (FOC), Western Naval Command, said the visit showed the existing cordial bilateral relationship between Nigeria and France.
Bobai said that the navy would continue to improve on the strong partnership between the two countries.
"The visit is a welcome development which demonstrates the existing bilateral cooperation between the two navies.
"This will also give us the opportunity to tap from their experience in training our men in some areas," Bobai said