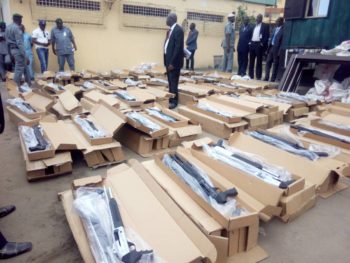 While Benin Republic and China are systematically undermining Nigeria economically, Turkey seems interested in the destruction of the precious lives of our citizens. Why the Nigerian government allows its tiny neighbour to willfully authorize the passage of banned items into its territory at the expense of its economy leaves much to the imagination. The government of Benin Republic is clearly behind the smuggling of goods, including life-threatening goods, into Nigeria. The Nigerian government, through some of its top officials including the Minister of Agriculture Chief Audu Ogbeh and the Comptroller-General of Customs, Hameed Ali, have spoken severally about the havoc wreaked by Benin Republic on the Nigerian economy and on the health of Nigerians.
Every year, no fewer than 120 million bags of rice are smuggled into Nigeria. The smuggled commodity, according to Chief Ogbeh, are not fit for consumption by "even pigs"; same goes for the more than two billion pieces of poultry products that find their way illegally into the Nigerian market from the francophone country. Customs Comptroller-General, Col. Hameed Ali early this year accused Benin Republic of violating the Economic Community of West African States (ECOWAS) Protocol on the movement of goods across borders of member states. These admissions notwithstanding, Abuja continues to indulge Cotonou without as much as extracting commitment of good neighbourliness from the belligerent leaders of the rashly exploitive country.
China is also callously exploiting the weakness of Nigeria's poor border control to trade in goods that are not fit for the market of its many slums. The Asian tiger, which is well known for strict border control, turns the blind eye when substandard goods are being loaded on board ships heading to Nigeria. Dangerous and substandard cables, fake electrical fittings that lead to inferno in private and public buildings, fake home appliances and even fake baby food are among several exports the repressive country permits through its ports so long as they are heading to Nigeria. Not long ago, the Standards Organisation of Nigeria impounded 10 container loads of fake and substandard baby diapers. These diapers were capable of causing major health problems for children that use them. Like China and Benin Republic, Turkey is a dangerous trading partner to Nigeria. While the officials of both countries are quick to point to the supposed $2.3 billion booming trade relations between both countries, little is said about how dangerous goods flood Nigeria from the Eurasian country. To put it succinctly, Turkey is arming some Nigerians to harm Nigeria. This is evident in the illegal but consistent shipment of arms and ammunition into the country from Turkey. So far, Nigeria Customs Service has seized four import containers laden with dangerous weapons at different times and locations in Lagos. In January, a container load laden with 661 pump action rifles concealed among steel doors and other merchandised goods was seized; in May another container carrying 440 rifles concealed among bags of POP powder was seized; while in September two containers have been seized for the same offence. The first container had 1,100 rifles falsely declared as wash hand basins and water closets, while the second container of 470 pump action rifles was also falsely declared as containing elbow plumbing plastics. Within the last eight months alone, 2,671 rifles have been confiscated by Customs in Lagos. 2,010 of these were seized at the Tin Can Island Port while the first batch of 661 was cleared through Lagos Port Complex Apapa but intercepted at Mile 2 area of Lagos State. The common denominator to these seizures is that all the containers were shipped into Nigeria from Turkey. The weapons have similar features, they emanated from the same country and were processed at the port using the same methodology – the importer makes false declaration and tries to bribe his way through the cargo clearance process. In the case of the first consignment seized in January, the container had been cleared and released from the port and was on its way to the importer's warehouse when it was intercepted at Mile 2.
The process of cargo examination at Nigerian ports is manual and largely archaic. Under-declaration and false declaration of cargo gives Customs justification to insist on 100 percent manual examination of cargo at the port. However, this system is not effective and takes way too much time. One is therefore concerned about the number of containers that may have escaped into the society undetected. The eagle-eyed Customs officers who intercepted these consignments must however be commended for their patriotism. Nigeria can ill afford more dangerous weapons in the hands of unscrupulous element at a precarious time like this. It is now incumbent on the Federal Government to take a more decisive action against Turkey. My recommendation will be an immediate ban on all imports emanating from Turkey. This ban should subsist until such a time when the Turkish government gives a definite commitment to take responsibility for carrying out thorough checks on all cargo emanating from the country and destined for Nigeria. Such trade embargo will hurt Turkey more than Nigeria, so I do not think Nigerians should entertain any fear in this wise; after all the $2.3 billion trade between both republics is largely skewed in favour of Recep Tayyip Erdoğan's country.