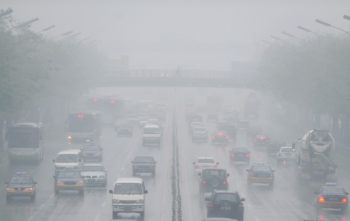 Following the prevailing adverse weather condition and attendant road traffic challenges, the Federal Road Safety Corps wishes to advise motorists to be conscious of the foggy weather condition, early morning and late evening mist, usually associated with the harmattan season.
According to the Head, Media Relations and Strategy,  Bisi Kazeem "just last week, the Abuja-Lokoja highway experienced a thick fog which enveloped some parts of the corridor between 5.00am and 7.30 am, especially the 30km stretch between Yangoji and Awawa  (near the NNPC pump station), with attendant visibility challenges beyond 70 metres on most stretches of the highway".
He added that the same climate situation played out along other major corridors of the highways.
Consequently, the Corps Marshal, Boboye Oyeyemi has directed that motorists across the country be guarded to drive with lights on low beam in view of reflections from high beams which heighten poor visibility of drivers and to use common sense speed.
Oyeyemi said with the festive season and attendant heavy traffic across the country during  harmattan , every driver is enjoined to know how to adjust their driving to meet conditions on the road or to know how to drive with high level of safety consciousness in bad weather.
"In view of prevailing climatic conditions, motorists are further reminded of the need to embark on daily routine check of their vehicles before entering the road. Aside from the wipers, brakes, non-defective windscreen and functional lights, it is instructive to check radiators for water, defrosters and use coolant to keep the vehicle engine within normal range," Oyeymi stated.
The FRSC also urged road users to note that the higher a vehicle accelerates, the higher the temperature of the vehicle which directly affects the tyres, hence the need for long distance travellers to avoid over inflated and under inflated tyres.
"Tokumbo and worn-out tyres are potential catalysts for road traffic crashes" he also said.
Copyright Ships & Ports Ltd. Permission to use quotations from this article is granted subject to appropriate credit given to www.shipsandports.com.ng as the source.