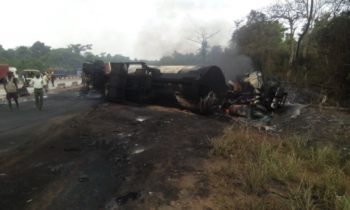 The Federal Road Safety Corps (FRSC) on Monday said Nigeria has lost N7.157 billion to road traffic accidents involving 116 petroleum product tankers in the first half of 2018.
Corps Marshal of the FRSC, Boboye Oyeyemi, made this known at a stakeholders' forum on haulage transportation in Abuja.
According to him, the figure excluded the number of people killed; the cost of treatment of those injured; damage to the country's road infrastructure; environmental impact and other collateral damages.
Oyeyemi said the June 28 petroleum tanker accident at Otedola Bridge in Lagos that left 12 persons dead and 55 vehicles burnt was the worst in terms of the number of vehicles involved.
He blamed road accidents involving tankers largely on noncompliance with minimum safety standards especially by tank farm owners and tanker owners/drivers in the country.
He said, "There is so much compromise by the tank farm owners. The tanks are supposed to carry specific litres of products, but they fill them to the brim; there is a conspiracy.
"When the drivers are going, they sell these products along the highways.
"Two, because of the minimum safety standards at various tank farms, they use the truck heads of different tankers to load at the tank farms.
"When they get back to designated points they now transfer it and use their own trucks. That is why we are having these problems; there is so much compromise at the tank farms."
The FRSC Corps Marshal tasked relevant agencies, including the Standards Organisation of Nigeria (SON), on full enforcement of the minimum safety standards in the certification of haulage vehicles.
He said, "SON should work with the tank farms to ensure that only tanks that comply with the minimum safety standards are allowed to load.
"The maximum haulage capacity for tankers operating in the country is 33,000 litres. There should be a directive that any tanker with more than 33,000-litre capacity should not be allowed to load.
"This is why the weight and measures of the Federal Ministry of Industry, Trade and Investment should be more active and ensure strict enforcement of these standards."
The FRSC boss thanked the Office of the Secretary to the Government of the Federation for convening the forum, which sought to find a lasting solution to incessant tanker accidents in the country.
He urged other regulators to collaborate with the FRSC on the enforcement of safety standards in the industry.