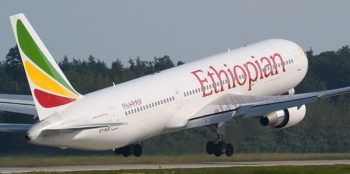 Ethiopian Airlines on Tuesday said it would resume flights to Eritrea's capital, Asmara, on July 17 for the first time in 20 years, a day after the neighbours and long-time foes declared their "state of war" over.
In a historic deal on Monday, the Horn of Africa neighbours agreed to open embassies, develop ports and resume flights, concrete signs of a rapprochement that has swept away two decades of hostility since war erupted over their disputed frontier in 1998.
"With the opening of a new chapter of peace and friendship between the two sisterly countries, we look forward to starting flights to Asmara with the B787," the firm's Chief Executive, Tewolde GebreMariam, said, referring to a Boeing jet.
Monday's announcement formally ended one of Africa's most intractable military stand-offs, a conflict that has destabilised the region and seen both governments funnel large parts of their budgets into ecurity and soldiers.
The 1998-2000 border war killed an estimated 80,000 people. Tens of thousands were also deported, splitting groups that shared bloodlines.
Agency Report