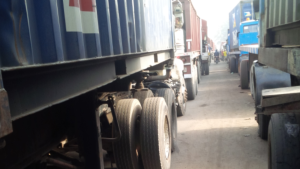 The Federal Road Safety Corps (FRSC) says that it has begun full enforcement and arrest of unlatched containers on the roads.
FRSC Zonal Commanding Officer for Ogun and Lagos, Shehu Zaki, told newsmen during routine patrol of the Lagos-Ibadan Expressway on Tuesday.
Zaki said that the patrol was targeted at trucks carrying unlatched containers.
According to him, the penalty for trucks carrying unlatched containers was N250.
"This exercise, as you have seen, is designed to target trucks that are carrying containers that are not latched to the vehicles.
"On Wednesday April 5 alone, we recorded more than five crash sites arising from fallen containers, killing people and causing obstructions.
"Our major concern is to prevent the trailers and flat belt containers from falling unnecessarily.
"Enforcement is supposed to be a deterrent, so, if you don't want to be penalised, do not disobey the traffic rules and regulations,''said the FRSC boss.
Zaki said that the enforcement would also focus on quality of tyres of trailers, trucks and other articulated vehicles.
FRSC Corps Marshal, Boboye Oyeyemi, had on April 3 said that the corps has resumed full enforcement on containers that were not properly latched to their vehicles.