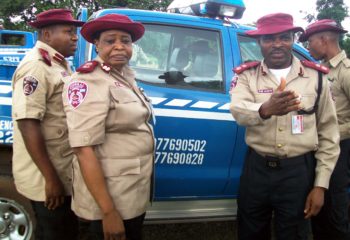 A motorist, one Arthur Nwankwo, who allegedly hit and killed a Federal Road Safety Corps (FRSC) regular marshal, Anthonia Okoigun, would be charged with manslaughter soon.
The Edo Sector Commander of FRSC, Samuel Odukoya, said in Benin on Thursday that the culprit hit the marshal with his car on Dec. 27.
" Okoigun, who was hit by a motorist, died at the University of Benin Teaching Hospital, while receiving treatment on Jan. 4,'' he said.
According to him, the motorist was initially convicted by a Mobile Court for assaulting the deceased.
Odukoya said that the regular marshal was attached to Abudu Unit Command.
Nwankwo was arraigned before a mobile court for hitting Okoigun, with his car along Abudu axis of the Benin-Asaba express way on Dec. 27, while on duty.
Nwankwo was sentenced to six months imprisonment with hard labour, with N90, 000 option of fine for seven charges which included assault of the FRSC marshal.
He was charged with dangerous driving, road obstruction, speed limit violation, obstruction of marshal on duty, sign violation and failure to report accident.
The convict was also ordered to foot the hospital bills of the victim, while his vehicle was impounded.