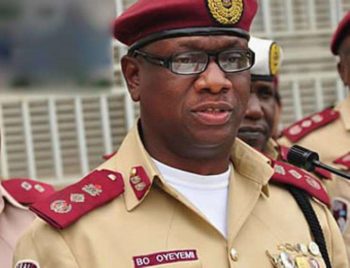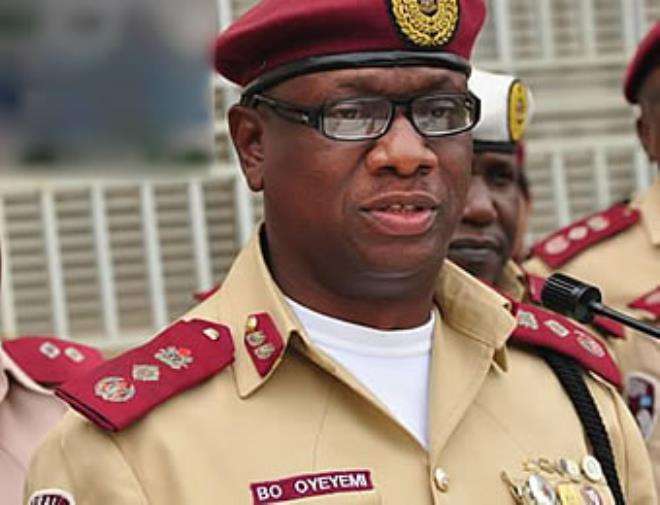 By Patience Danjuma 
Corps Marshal of the Federal Road Safety Corps (FRSC), Boboye Oyeyemi, says plans are underway to compel traffic offenders to pay N100,000 as penalty for a traffic offence.
Oyeyemi said this on the sideline of the Technical Working Group (TWG) on Nigeria Road Safety Strategy on Wednesday in Abuja.
"You cannot arrest somebody for using a phone while driving and he pays N4,000 as penalty. And almost immediately he goes back to commit the same offence.
"Fines are supposed to serve as deterrent, which is why I said that I am in support of what the National Assembly is doing presently amending the Act of the FRSC to make the fines go up.
"I was not the one that initiated it, it is the National Assembly that initiated it and I am in support and I will make sure that before the middle of next year this is passed into law.
"I believe that by the time traffic offenders' start paying between N50,000 and N100,000 for a single traffic offence, they will not want to commit such offence again," he said.
The FRSC boss reiterated that penalties for traffic offences were to serve as deterrent adding that the present regime of fines and penalties do not serve as deterrent, hence the need to increase the fines.
"Look at Lagos, the minimum fine is N50,000 and people are complying. I am not a revenue generating agency but again we must ensure that those fines serve as deterrent for people not to do it again. 
"When an offender pays N50,000 or N100,000 fine, he or she will think twice before committing the offence again.
"What is the essence of a person disobeying traffic light and pays N4,000 only. In fact, some of them insult us saying 'is it not N4,000'?
"They will go to our office and use the POS to pay and walk away and you will see them entering their cars and using the phone again," he said.
Oyeyemi explained that aside fines, the FRSC also take traffic offenders to health facilities and charge them to court.
He said the courts usually impose penalties on offenders, "but the court is always liberal a bit; we appreciate them."
He said also that the corps was proposing community services as a punishment for traffic offenders.
"This punishment is also in the amendment now; when you are convicted, in your suit and tie you will go for community services.
"People think that the fines are high but they seem not to understand what we have been stressing; fines are to serve as deterrent.
"If you don't want to pay the fine, then don't commit the offence," Oyeyemi said.
Copyright Ships & Ports Ltd. Permission to use quotations from this article is granted subject to appropriate credit given to www.shipsandports.com.ng as the source.