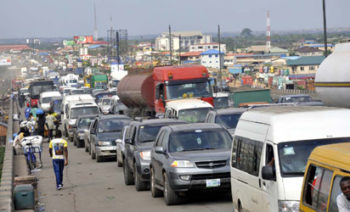 Commuters on Wednesday morning faced a hard time going about their businesses after multiple accidents caused heavy traffic on the Lagos-Ibadan Expressway.
The accidents, which occurred after the Magboro Bridge on the Lagos-Ibadan Expressway, Ogun State, outward Lagos left many stranded.
According to the Federal Road Safety Corps (FRSC), the first crash occurred at about 2am, opposite the Mountain of Fire Ministries' Prayer-ground when a truck with container with plate number MUS 731 XQ fell over.
Some few metres away from the container crash, a truck laden with Soya beans lost control and hit the median, obstructing traffic outward Lagos.
As of the time of this report, officials of the FRSC and Julius Berger were seen removing the trucks from the road to aid the flow of traffic.