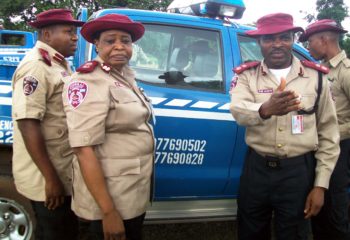 No fewer than 10,497 motorists have been arrested by the Federal Road Safety Commission (FRSC) in Katsina State for violating various traffic rules and regulations.
The FRSC Sector Commander, Alhaji Abdu Bagadawa, disclosed this in an interview on Thursday in Katsina.
He said that the motorists were arrested between January and Dec. 20, across the state.
Bagadawa said that motorists were arrested for indulging in dangerous driving, over loading, routes violation, plying the road without number plate and over speeding.
Others included driving without license, not using seat belt, driving with one headlight in the night, among others.
He said that the FRSC impounded their vehicles and were made to pay fine to the government for the offence they committed.
Bagadawa said that the FRSC had issued warning tickets to no less than 2,029 commercial vehicle drivers for not installing Speed Limit Device (SLD) in their vehicles.
He lamented that only 15 vehicles were found to have the device in the state.
Bagadawa advised commercial vehicle drivers who did not install the devise in their vehicles to do so for safety of their passengers before the FRSC commenced enforcement exercise.
SLD is an instrument that controls the speed of vehicles and FRSC in introducing it as part of measures to check over  speeding.