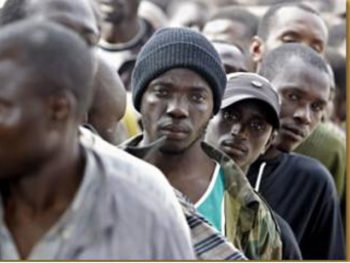 Some Nigerians in Abuja on Friday flayed the Senate recommendation for a N5 fuel levy on every litre of petroleum or diesel imported into the country.
Adebayo Ojo, a resident of Abuja noted that the present recession called for a reduction in petrol price and not an increment.
Ojo, a commercial taxi driver in also in Abuja, said, "Government cannot possibly be thinking about increasing the petrol price when they know the harsh economic situation in the country.
"The government should rather think of reducing the price else they will be calling Nigerians fools for being patient all this the while.
"We are not fools and government should not take us for granted, how can the Senate be so mean to even contemplate a thing like that.
"I personally will recruit people to take to the street if a thing like that should happen," he said.
Zainab Abu, a shop owner at Wuse market, said: "No, it can't be true. That will be callous".
Abu said that she could no longer afford her children's school fees and had withdrawn them to a local school because of the recession.
"This government has failed Nigerians and if we are not expecting anything more they should stop frustrating us," she said.
A salon owner in Maitama, on condition of anonymity said, "Aunty, look around, I have laid off my staff. This one with me is cheap labour and she comes in thrice a week.
"I couldn't increase their pay and they both said they could not cope because the salary barely covered their cost of transportation."
At a bus stop in Maitama, a lady who offered her name as Sala, almost slumped when NAN asked her reaction to the imminent hike.
Sala said: "The proposed hike is unreasonable, it will increase everything again and we have not recovered from the increments in virtually everything."
The Senate Committee on Works had on June 1 recommended a N5 fuel levy on every litre of petroleum or diesel imported into Nigeria to help finance the proposed National Roads Fund.
The committee, chaired by Sen. Kabiru Gaya (APC-Kano), also recommended the deduction of 0.5 per cent on fares paid by passengers travelling on inter-state roads to commercial mass transit operators and the return of toll gates on federal roads, among others.
The inference of the proposed fuel levy charge is that end-users, including motorists, would pay N5 tax on every litre of fuel bought at any fuel station.
The recommendation, which has kept busy all social media platforms, comes a year after a recent increase of the pump price of premium motor spirit (petrol) from N87 to N145 per litre.
Copyright Ships & Ports Ltd. Permission to use quotations from this article is granted subject to appropriate credit given to www.shipsandports.com.ng as the source.