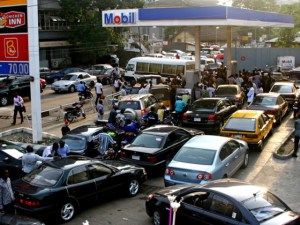 The Department of Petroleum Resources (DPR) has said the lingering fuel crisis is as a result of administrative challenges between the Federal Government and petroleum marketers, which has taken some time to be resolved.
The Plateau State Operations Manager of DPR, Jeremiah Mashat, made this known on Friday during a media briefing in Jos.
Mashat assured Nigerians that the Federal Government was working to ensure that the fuel crisis ends soon, while appealing to Nigerians to remain calm.
He said efforts are being made to restore normalcy.
Mashat said: "There has been a dip in the supply of fuel to the states in the past three weeks.
"A total of 214 trucks have been supplied to the state during this period, and if you divide 214 trucks by 21 days, you will get an average of 10 trucks per day for a state that has 17 local government areas.
"You can see that some local governments may not get the product at all; and that is how critical the situation is.
"The fact is that there have been administrative challenges between government and marketers, taking some time to be resolved.
"Once in a while, government has to reconcile its records with the marketers. And that takes a while.
"But I can assure you that government is working round the clock to get the issues resolved.
"We have sent reports from the state to the minister, and I believe the other states have done same.
"And I can assure you that government is working hard to resolve the crisis; and I believe in a short while, the situation will be brought under control."
He dismissed the insinuations that the scarcity was artificial to make life difficult for Nigerians during the Christmas period.
"It is not aimed at making life difficult for Nigerians at Christmas; it's a mere coincidence", he stated.
"We go around every day to monitor the filling stations to ensure that the product is not sold above N145 per litre.
"We have also put some measures in place to ensure that trucks that leave the depot are tracked till they get to their destinations to ensure that the product is not diverted to wrong destinations," he stated.
Mashat warned that the punishment for diversion of the product is a fine of N200 for each litre of the quantity of fuel diverted.