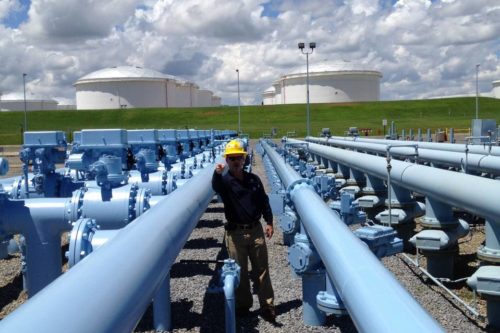 Chevron Corp, Valero Energy Corp and Delta Air Lines Inc have urged U.S. regulators to expedite a hearing on the fee structure of the largest fuel pipeline in the United States.
The companies allege that the current rate is costing them millions of dollars.
The lack of a scheduled hearing by the U.S. Federal Energy Regulatory Commission (FERC) on rates charged by Colonial Pipeline Co is costing about $4.95 million per month "at a minimum," the companies said in filing late on Friday.
In November, Chevron Products Co, Valero Marketing & Supply Co and Epsilon Trading LLC, the trading arm of Delta, filed a complaint with
FERC that said Colonial's fees "greatly exceed just and reasonable levels."
The complaint, which has been pending with FERC for nine months, also alleged Colonial overcharged the companies by more than $60 million combined over a two-year period and is potentially monopolizing fuel delivery into the New York region.
Colonial has previously said the complaint has no merit and that the shippers manipulated data "and made improper and highly unrealistic assumptions in an effort to strengthen their arguments."
Colonial spokesman Steve Baker said on Monday that the company is preparing its response to the latest request. He said Colonial will reiterate that it believes FERC should deny the shippers' request and instead grant Colonial's request for dismissal.
Colonial connects Gulf Coast refineries with markets across the southern and eastern United States through more than 5,500 miles (8,851 km) of its pipeline system, delivering gasoline, diesel, jet fuel and other refined products.
In the new filing, the companies request that FERC set a hearing for the complaints against Colonial, saying that the delay by FERC is "abnormal," while "prejudicing" the companies.
FERC spokeswoman Tamara Young-Allen declined to comment on the filing, saying it is policy not to comment on a pending Commission decision.
U.S. Congress set Colonial's rates in 1990s-era legislation. In 2001, FERC allowed Colonial to charge market-based rates from the Gulf Coast to the Philadelphia and New York areas, on the understanding that  Colonial lacked monopoly power over those markets.
Agency Report