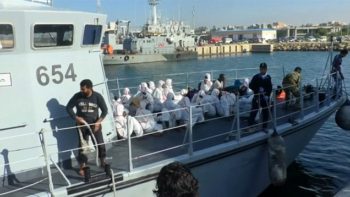 A German army vessel has rescued 102 migrants from the Mediterranean, the Defence Ministry said Thursday.
The Bundeswehr ship, part of an EU mission dubbed "Sophia," rescued 84 men, two women, 15 children and a baby from a vessel off the Libyan coast, 25 kilometres north of Tripoli, the ministry said.
The men, women and children were brought to Messina in Sicily, while their vessel sank.
The German military has saved 22,000 people from the Mediterranean since May 2015.
Agency Report