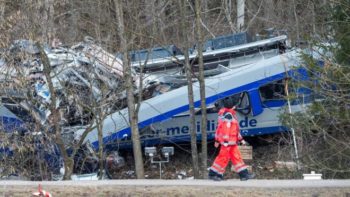 German police on Tuesday said they detained a rail traffic controller for questioning on suspicion of causing death by negligence in a crash between two trains that killed two people in Bavaria.
The collision between a freight train and a passenger train occurred late on Monday near Aichach, a station on the line that links the southern cities of Ingolstadt and Augsburg.
Police said in a statement the 24-year-old controller was detained over the death of a train driver and a 73-year-old female passenger.
Prosecutors in Augsburg will decide whether to ask a court to issue a formal arrest warrant against him.
Agency Report