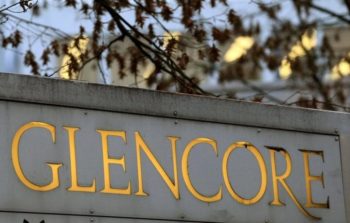 Commodities trader Glencore has offered Chad a grace period from principal repayments on a more than $1 billion cash-for-crude loan and extended the deadline for full repayment to 2025 from 2022, a letter seen by Reuters showed.
The central African nation is under pressure to restructure its Glencore debt for a second time after the International Monetary Fund said this year that Chad's external commercial debt, mostly to Glencore, was unsustainable.
The Swiss-based commodities trader and miner, which lent Chad the money before oil prices began tumbling in mid-2014, said in the letter to Chad's finance minister that it hoped the proposal would satisfy the IMF, which was copied.
Glencore held meetings with Chad's delegation in Paris last week to discuss the loan, but no deal was reached.
The letter from Glencore, dated Nov. 14, offered Chad a grace period from principal repayments until the last quarter of 2019, with the interest rate in that period lowered to 4 percent from 6.75 percent.
In addition, the firm offered to release Chad from its call on $1 billion worth of the country's crude during the next three years, the letter said.
The letter, addressed to Finance Minister Christian Georges Diguimbaye, said Glencore was "told on Friday night that one more time, our enhanced proposal was not enough and that the Republic of Chad was retracting its latest position once more."
Officials at the Finance Ministry did not immediately respond to requests for comment.
Glencore and a consortium of the trading firm's bankers had lent Chad's state oil firm $1.45 billion in 2014 in exchange for crude. The deal was restructured in 2015 following the crash in global oil prices. Chad still owes about $1.3 billion.
Negotiations on the loan, led by Glencore, became fraught last month after Chad decided to divert some crude being marketed by Glencore to the country's biggest producer, ExxonMobil.
Hit by drought, a refugee crisis and a costly military campaign against Islamist militant group Boko Haram, Chad has had loans from the IMF, World Bank and African Development Bank, with another $12.9 billion of pledged funding as of September from public and private donors for a 2017-2021 development plan.
Agency Report