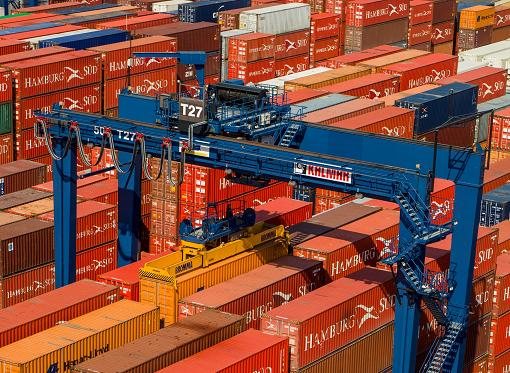 Container handling capacity is projected to increase by 260 million TEU until 2023, developing more in line with demand, German market research company DS Research said in its latest report.
In addition, container port demand is forecasted to increase by 210 million TEU in the same period. About 350 expansion projects are expected to supply 270 million TEU additional container handling capacity by 2023. However, chances for completion vary regionally from 40% to 70%.
Developers are in general too optimistic regarding the expansion of existing facilities or the construction of greenfield sites, the company claims. The scope and timing of projects are usually adjusted to market demand, resulting in projects getting downsized, postponed or canceled, according to DS Research.
"The purpose of project announcements is to attract interest from investors and potential customers. Therefore, what is announced usually exceeds what is actually built," analyst Daniel Schaefer said.
"At the same time, we expect that about 2/3rd of the expansion projects included in our project pipeline will in fact get completed, with execution rates ranging from 40% for North Africa to about 70% for South East Asia and Oceania," he added.
Due to a number of reasons, container handling capacity has increased at a relatively constant level of 40 to 50 million TEU per year, largely exceeding demand growth. Some 300 projects consisting of 185 million TEU new capacity have been reportedly built during the last 4 years, whereas container throughput increased by only 63 million TEU. As trade tensions grow and terminal utilization rates are overall low, terminal operators tend to be more hesitant regarding new terminal investments.
Construction activities for specific regions and for terminal automation projects remain to be strong. Larger container terminal projects cluster at the US East Coast, the Mediterranean Sea, the Suez Canal, the Persian Gulf and the Strait of Malacca – moving away from Northern Europe and the Panama Canal. However, the majority of the listed projects are small or medium sized – about 75% of all projects scheduled for completion until 2023 include a capacity expansion of below 1 million TEU.
"We have seen a definite trend where many global concessions are being let on the basis as a multi-purpose terminal, that means containers plus dry bulk or breakbulk facilities and an increasing interest of international operators in these kinds of facilities as well as in inland services," Schaefer further said. 
Copyright Ships & Ports Ltd. Permission to use quotations from this article is granted subject to appropriate credit given to www.shipsandports.com.ng as the source.