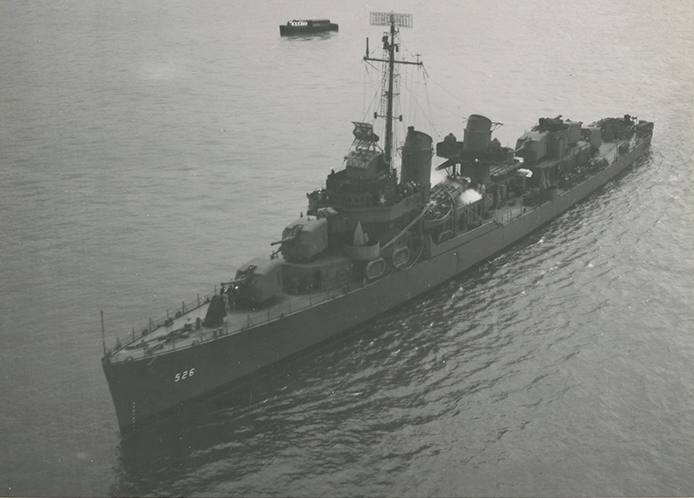 For almost 75 years, the stern of the destroyer USS Abner Read lay somewhere below the dark of the Bering Sea off the Aleutian island of Kiska, where it sank after being torn off by an explosion while conducting an anti-submarine patrol.
Seventy-one U.S. Navy Sailors were lost in the aftermath of the blast, during a brutal and largely overlooked early campaign of World War II.
The heroic actions of crew is credited with saving the ship, but for the families of the lost Sailors, the final resting of those lost in the predawn hours of August 18, 1943 remained unknown.
That is until July 17, when a NOAA-funded team of scientists from Scripps Institution of Oceanography at the University of California San Diego and the University of Delaware discovered the missing 75- foot stern section in 290 feet of water off of Kiska, one of only two United States territories to be occupied by foreign forces in the last 200 years.
"This is a significant discovery that will shed light on this little-known episode in our history," said retired Navy Rear Adm. Tim Gallaudet, Ph.D., acting under secretary of commerce for oceans and atmosphere and acting NOAA administrator. "It's important to honor these U.S. Navy Sailors who made the ultimate sacrifice for our nation."
Abner Read was on patrol at about 1:50 a.m. Alaska time when the massive explosion – presumed to be from a Japanese mine –? ripped the destroyer apart. Somehow the crew kept the main part of Abner Read's hull watertight, and two nearby Navy ships towed it back to port. "This was catastrophic damage that by all rights should have sunk the entire ship," said Sam Cox, curator of the Navy and director of the Naval History and Heritage Command.
Within months, the destroyer was back in the war. It went on to fight in several battles in the Pacific Theater before being destroyed in Nov. 1944 by a Japanese dive bomber in a kamikaze attack during the battle of Leyte Gulf. Abner Read received four battle stars for her World War II service. 
Copyright Ships & Ports Ltd. Permission to use quotations from this article is granted subject to appropriate credit given to www.shipsandports.com.ng as the source.