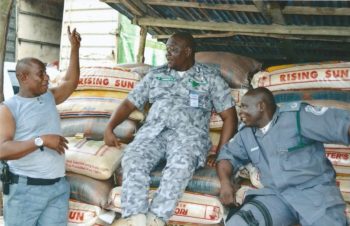 State governors under the aegis of Nigeria Governors' Forum have promised to partner with the Nigeria Customs Service on its anti-smuggling activities, especially as it concerns the ban on rice importation.
They also promised to work together to ensure that the nation achieves its target of self-sufficiency in rice production by 2018.
These resolutions were parts of the communique issued at the end of a meeting of the forum held inside the old Banquet Hall of the Presidential Villa, Abuja on Wednesday evening.
The forum's chairman, Abdulaziz Yari, who is the governor of Zamfara State signed the three-point communique made available to journalists on Thursday.
According to the communique, the governors also resolved to collaborate with the National Hajj Commission of Nigeria and the Ministry of Foreign Affairs to ensure that existing agreements of air carriers are renegotiated with the involvement of states as key stakeholders.
The communique read, "The World Bank Country Director, Rachid Benmessaoud, briefed the Forum on the progress of the implementation of the bank's portfolio partnerships with states. Members pledged to strengthen coordination mechanism and consensus on replicating and exchanging reviews across the states, to resolve implementation challenges and achieve project development objectives.
"On the status of the prohibition of rice importation through Nigeria's land borders, members received update from the Ag. Deputy Comptroller-General of Customs, Dangaladima Aminu Alhaji who represented the Comptroller General, Col. Hameed Ali (retd.).
"Members commended the Service for the renewed effort in strengthening anti-smuggling activities, and pledged to collaborate with the Customs Service to ensure that the country achieves its target of self-sufficiency in rice production by 2018.
"The Forum also received a presentation from Abdullahi Mukhtar Muhammad, Executive Chairman of the National Hajj Commission of Nigeria, on the Challenges and Prospects of the Hajj pilgrimage.
"Members pledged to collaborate with the Commission and the Ministry of Foreign Affairs to ensure that existing agreements of air carriers are renegotiated with the involvement of States as key stakeholders."