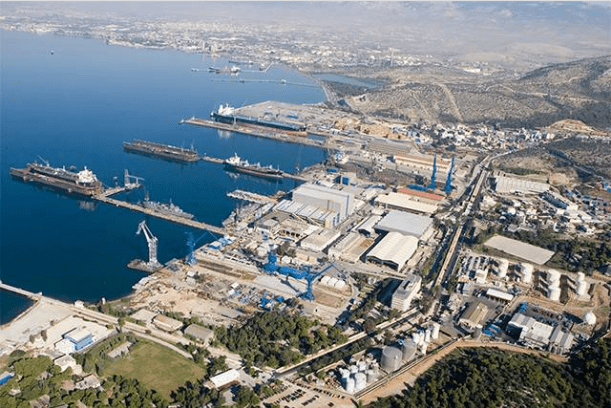 Greece has finally put Hellenic Shipyards on sale, launching a tender to sell the country's biggest shipyard now under special administration.
The country's finance ministry said interested parties have until 27 November to submit binding bids for all the Skaramanga-based shipyard's assets.
Up for sale is a 350,000-square metre site west of Piraeus that has extensive workshops, ship-lifting equipment and two graving docks, including one of the biggest in the Mediterranean with a lifting capacity of over 400,000 dwt.
The government has promised to overhaul the loss-making Greek defence industry while boosting the country's defence capabilities, amid rising tension between Greece and Turkey over offshore gas resources in the eastern Mediterranean. It has said its plans include overhauling the military division of Hellenic Shipyards which has long been favoured by the Greek navy.
Interest of foreign shipbuilding groups involved in military programmes is focused on whether the Skaramangas complex will be able to undertake part of the expected deal with the Greek government for the procurement of four frigates that Prime Minister Kyriakos Mitsotakis has announced. As is usual, in order to make their proposal to Athens more attractive, some groups may offer to construct some of the frigates at Greek shipyards. Hellenic has a history in the building of such vessels.
Market sources said among the groups interested in that or other similar models of cooperation are American company Lockheed Martin, Dutch peer Damen Shipyards Group, Germany's ThyssenKrupp and France's Naval Group. Other candidate buyers, regardless of military procurements, include US-backed Onex Group, led by Panos Xenokostas, which has already acquired the shipyards at nearby Elefsina and on the island of Syros. Onex Group is said to be working with the US International Development Finance Corporation.
In any case, the investments that the Skaramangas yard need to meet the requirements of such a navy vessel-building programme are estimated to be huge. Nevertheless, Lockheed is said to have already submitted a proposal for the construction of four Multi-Mission Surface Combatant (MMSC) frigates to the Hellenic Navy, with three of them to be built at Greek shipyards. It is also said to be interested in the upgrade of four Hellenic Navy MEKO frigates, a project in which Damen Shipyards is also said to be interested.
The shipyard has a centuries long history. However, its modern history started when shipowner Stavros Niarchos purchased the ruined Skaramangas shipyard in 1957 and Hellenic Shipyards started operation until being put in liquidation in the 1980s. It was subsequently sold in 2002 to German investment group ThyssenKrup, backed by Howaldtawerke-Deutsche Werft (HDW) only to be sold again in 2009 to Privinvest, a shipbuilding group founded by Lebanese-born businessmen, Iskandar and Akram Safa.
In 2013 Privinvest fell out with the Greek government, and a special administrator was appointed to attempt yet another sale. Privinvest considered Greece's move an expropriation and appealed to the Paris-based International Chamber of Commerce. In 2017, the ICC found Greece liable for breaching contractual obligations in connection with a submarine-building programme, as well as for mishandling EU state-aid rules, and awarded Privinvest compensation of EUR1.2bn ($1.42bn).
The legal fight is now before Greece's Supreme Court and at the International Centre for Settlement of Investment Disputes, presenting another obstacle for potential buyers to deal with. 
Copyright Ships & Ports Ltd. Permission to use quotations from this article is granted subject to appropriate credit given to www.shipsandports.com.ng as the source.