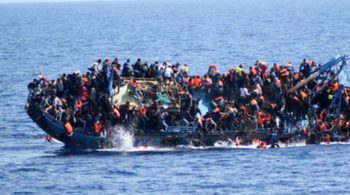 Three people, including two children, drowned and seven more were missing after their boat capsized Tuesday while crossing a river from Turkey to Greece, reports said.
Their inflatable boat overturned while the migrants were seeking to cross into Greece over the River Evros, known as the River Meric in Turkish which runs close to the border, the Dogan news agency said.
The corpses of a woman, 37, and two children aged 10 and five-six years were recovered after the incident, which took place before dawn in Turkey's northwestern Edirne province, it said.
The dead woman was Turkish but the nationality of the children and those missing has not been disclosed.
Three Pakistanis were detained on suspicion of acting as guides for the crossing, Dogan said, without giving further details.
Turkey struck a deal with the EU in 2016 in a effort to stem the flow into Europe of migrants who had mostly made the perilous sea crossing across the Aegean from western Turkey to Greece.
Aid groups say this has meant increasing numbers of migrants have been seeking to cross the Evros into Greece despite dangerous currents.
But as well as migrants, Turkish nationals, who fear being caught up in the crackdown that followed the 2016 failed coup, have sought to flee illegally to Greece using maritime or land routes.
Agency Report