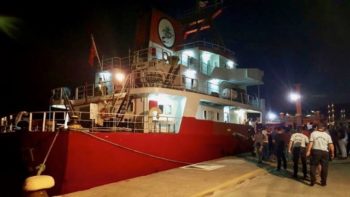 The captain of a Turkish freighter said on Monday that the Greek coast guard had fired on his vessel after he refused an order to dock at a port on the Greek island of Rhodes.
Turkey said the action was "disproportionate" and showed no regard for human life.
"There is no justification for firing on an unarmed commercial ship carrying freight between two Turkish ports," the Foreign Ministry said in a statement. "Our sole consolation is that nobody was killed or injured as a result of the incident."
Sami Kalkavan, captain of the M/V ACT, said the Greek coast guard had ordered him to dock in Rhodes, which is some 15 miles (24 km) from the Turkish coast, for inspection. He said that when he had failed to comply, the coast guard had opened fire, putting 16 bullet holes in his ship.
"The coast guard asked for the ship to be docked at the port at Rhodes immediately, and we did not accept this. They wanted to check (the ship), and we didn't accept that," he said.
"They said they would fire if we didn't stop – they did what they said," Kalkavan said, without indicating why he had not wanted the ship to be inspected. He said there was no risk of water intake from the bullet holes.
Friction between Turkey and Greece is not uncommon, given territorial disputes and Ankara's anger with Athens for failing to hand over Turkish soldiers who fled after an abortive coup last year. The neighbors came close to war in 1996 over islets known as Imia in Greek and Kardak in Turkish.
The Greek coast guard said it had fired warning shots as it was trying to inspect the ship's cargo after receiving an anonymous call that it was carrying narcotics. The vessel did not cooperate and subsequently moved back to Turkish waters, it said in its statement.
Turkish television NTV reported that two Turkish coast guard ships were at the scene, and quoted Turkey's Foreign Ministry as saying it was in contact with the relevant authorities.
Kalkavan confirmed that the ship, which had set off from the Turkish city of Iskenderun, near the Syrian border, had returned to Turkish waters.    
Copyright Ships & Ports Ltd. Permission to use quotations from this article is granted subject to appropriate credit given to www.shipsandports.com.ng as the source.