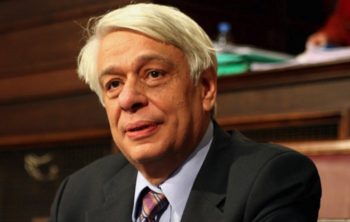 Greek President Prokopis Pavlopoulos extended best wishes for success to the upcoming Belt and Road Forum for International Cooperation which will take place in Beijing on May 14–15, in an exclusive statement with Xinhua in Athens.
"It is with great pleasure that I communicate again in this direct manner — like in September 2015 when I extended wishes for the 66th anniversary of the establishment of the People's Republic of China — with the friendly Chinese people and with the participants in the high level meeting for the Belt and Road Initiative of a friend, the Chinese President Mr. Xi Jinping," the Greek President said in the televised message recorded on Saturday.
This idea is based on the ancient Chinese philosophy, but also on the ancient Silk Road which is characterized by the spirit of peace and of mutual beneficial cooperation, he noted.
It substantially contributes to the development of infrastructure works, the promotion of trade, economic integration and the rapprochement between peoples and societies who are linked by land or sea, through the realization of this idea, he said.
For Greece, the maritime road is of particular interest, given that Piraeus port is the first gateway to the European continent via the new Suez Canal, Pavlopoulos said.
"Greece, a European country at the crossroads of three continents, has always been throughout its history open to communication and connection between different countries and civilizations. We warmly support this initiative in the context of our strategic partnership with China. And we are ready to creatively cooperate in this direction," Pavlopoulos stressed.
Greece's warm support is underlined by the presence of Greek Prime Minister Mr. Alexis Tsipras in Beijing's meeting, he said. "Greece, as a member state of the European Union, encourages further cooperation between the European Union and China. In this direction (Greece) promotes every initiative that will bring Europe and Asia closer," the Greek President said.
Pavlopoulos referred to China COSCO Shipping's investment at Piraeus port as "an exemplary case of harmonious and mutually beneficial collaboration between Greece and China" which highlights Piraeus as one of the most important junctions of geo-strategic connection of China and Asia to Europe.
For Greece, the Belt and Road Initiative also shows the strong willingness for further connection between all participating peoples and civilizations. As two countries who have inherited two of the oldest civilizations, Greece and China always appreciate and support each other, developing multifaceted collaborations, the Greek leader noted.
The Belt and Road Initiative is of great significance also for advancing cultural dialogue internationally, and for strengthening of ties between the two peoples, a fact which was also underlined by the participants in the Ancient Civilizations forum which was recently hosted in Athens, he said.
"I wholeheartedly wish every success to this great meeting which marks also the start of turning into reality an important vision for reaching solutions in key challenges and problems that the international community as a whole faces today," Pavlopoulos said.