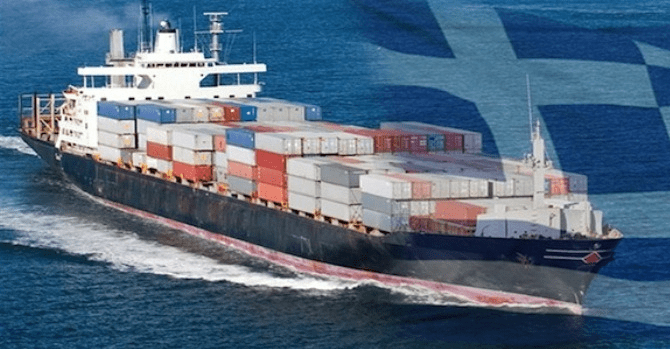 Greek fleet has hit an all-time-high in tonnage terms and the country's shipowners account for 11% of all newbuildings on order.
This year the Greek-controlled fleet of vessels over 1,000 gross tonnes reached an all-time high in terms of both gt and deadweight (dwt). At-mid year the fleet represented 7.1% of the world fleet in terms of ships, 13.3% in terms of gt and 16% of the dwt.
At the same time Greek parent companies represented 26.5% of the world tanker fleet and 15% of the ore and bulk carrier fleet and according the Union of Greek Shipowners (UGS) latest report the average age of the Greek-owned fleet at 9.54 years is lower than the average age of the world fleet's 9.87 years.
Already the world's largest fleet the growth of the Greek-owned fleet reflects its on-going renewal, both through contracting newbuilding orders and in the sale and purchase ring where
Greeks are leading players both as buyers and sellers as they replace older ships with more modern tonnage.
As individuals, Greek shipowners have been among the most active newbuilding contracting parties in recent years. Newbuilding orders for Greek interests account for 11% of global tonnage on order as Greeks invest in new and energy efficient ships, though shipyard backlogs are lengthening returning pricing power to the shipbuilders.
While shipyard berths for 2024 delivery of large vessels are rapidly filling up and heady newbuilding prices are deterring owners from fighting over the remaining slots, Greeks are still placing orders.
According to a survey of the Greek orderbook by Naftiliaki Greek Shipping Review, at the end of September, 44 Greek companies had 182 ships of 21.25m dwt on order. This is three companies fewer than at the same time in 2020 but 30 ships and 2m dwt more than a year ago.
Tankers dominate the Greek orderbook as was the case a year ago. This time round there are 98 tankers on order of 14.77m dwt compared to 84 of 13.93m dwt end September 2020.
There are 21 VLCCs contracted, up three on last year, while during the past 12 months seven VLCCs have been delivered and are now trading. That means 10 VLCCs have been ordered, though shipbroker Simpson Spence Young believes high prices are deterring shipowners from ordering tanker tonnage. SSY estimates the cost of a new VLCC in South Korea was $87.5m at the start of year, but by July this had jumped to $95m.
In a market seeing rising gas demand, companies have been actively ordering new ships and in all 16 LNG and 21 LPG carriers are on order. Container ships are also being ordered with 23 contracted for Greeks. There are 21 bulk carriers of 22.37m dwt on order.
Of Greece's 12 largest owners, nine of them are renewing their fleets through newbuidings. In addition to the Angelicoussis group's eight units, Navios' 15, Procopiou's 14, Tsakos' 11, and Capital's 20 units, Thenamaris, has eight ships, the Anna Angelicoussi group has an aframax, four suezmaxes and two 210,000dwt bulkers and Eastern Mediterranean two. Meanwhile, Minervia Marine has taken delivery of seven energy carrying ships this year.
The fleet renewal is not confined to newbuildings. According to Allied Shipbroking, up to mid-October, Greek interests had purchased 311 ships so far this year in the secondhand market for an outlay of $5.52bn, 197 of them bulk carriers, purchased for $3.3.38bn. At the same time, 201 ships had been sold by Greek companies for $3.04bn for further trading and 29 of 1.75m dwt, have gone for recycling, 18 of them tankers.