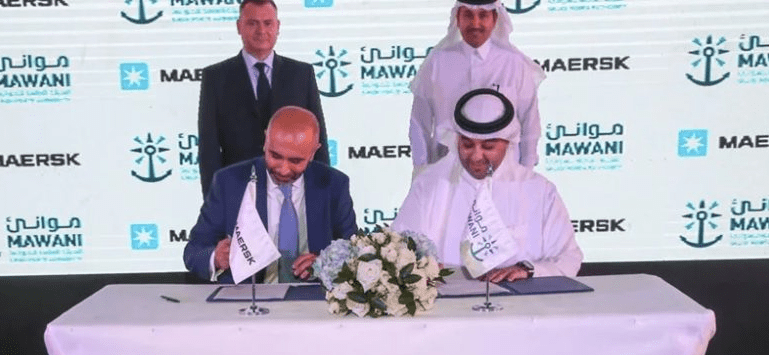 Danish shipping giant Maersk has signed an agreement with Saudi Ports Authority "Mawani" to set up an Integrated Logistics Park at the Jeddah Islamic Port in Saudi Arabia.
The agreement commits Maersk to an investment of $136 million over a period of 25 years for infrastructure for warehousing and distribution, cold storage, e-commerce and serve as a hub for transhipments, petrochemical consolidation, air freight and LCL (less than container load) cargo.
The greenfield project will be spread over an area of 205,000 square meters and will be the first of its kind at the Jeddah Islamic Port, offering an range of solutions with an aim to connect and simplify the supply chains of importers and exporters in Saudi Arabia. Maersk will also be investing heavily in renewable energy to power the facility and eventually achieve carbon-neutrality. The project is expected to create more than 2,500 direct and indirect jobs in Saudi Arabia.
"We are pleased today by the signing of this agreement, which will be a remarkable milestone in strengthening the Kingdom's position regionally and globally and will contribute to transforming the Kingdom into a leading global center in the field of transportation and logistics services," said His Excellency the Minister of Transport, Engineer Saleh bin Nasser Al-Jasser. "The authority's new strategy supports the maritime transport journey in the Kingdom and enables the authority to continue developing a sustainable and prosperous maritime transport system that supports the Kingdom's social and economic ambitions and contributes to achieving the ambitious goals of Vision 2030."
Saudi Arabia's Vision 2030 seeks to establish the Kingdom as an integral driver of international trade connecting the continents of Africa, Asia and Europe. It aims to more than tripling the share of non-oil exports from Saudi Arabia from its current levels to reach 50% of its total exports.
Saudi Arabia's Jeddah Islamic Port sits strategically on the Red Sea Coast connecting the international shipping route between the east and the west. With over 5 million TEUs of containers flowing in and out of Jeddah Islamic Port, it is the largest port in terms of volume and cargo handling in Saudi Arabia and second largest in GCC (Gulf Cooperation Council) countries.
"We are building an innovative, digital and technologically-advanced logistics infrastructure on the foundations of our strong network of global shipping and logistics & services to create value for customers in the region," said Maersk West & Central Asia Managing Director, Richard Morgan. "Our ambition is not only to connect and simplify our customers' supply chains, but also be a catalyst in the growth of trade and economies through our customer-centric solutions."