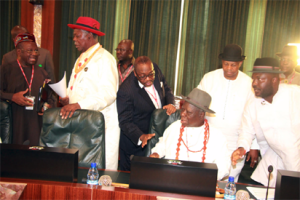 Niger Delta Youth Association (NDYA), has faulted the 16-point demand handed to President Muhammadu Buhari by leaders of Niger Delta, known as 'Pan-Niger Delta Forum, (PNDEF) on the way forward in resolving the crisis in the oil -rich region.
This was contained in a seven-point communiqué issued in Akwa Ibom State after an emergency conference of the body during which it took a critical assessment of the '16 Point Demand' earlier presented to the Presidency.
In the communiqué, the President, Comrade Victor James, Vice President, Comrade Ibiso Harry and other executives of NYDA, regretted that the leaders could not give priority to the Niger Delta Coastal Road Project which they said would improve the economic life of the people of the region.
Harry who read the communiqué for the group also pointed out that the delegation ought to have expanded the request for the granting of oil and gas blocks to cover communities of the entire Niger Delta other than giving few individuals the blocks.
The group while commending the contingent for their courage, tasked the presidency to ensure sincerity in dealing with the issues of Niger Delta.
The communiqué read in part: "We endorsed some of the '16 Points Demands', ranging from the Maritime University at Okrenkoko in Delta State, to the restructuring of the Amnesty Programme, the opening up of Warri, Calabar and Port Harcourt Ports as international Ports, the cleaning up of the entire Niger Delta wherever pollution is found.
"PNDEF should have made the 'Niger Delta Coastal Road Project' one of its basic demands and as clear as possible without ambiguity because it is strategically positioned along the region's vast coastline and an economically viable project which will attract serious foreign investments to the Niger Delta in terms of real estate and tourism.
"Some demands like the federal government's granting of oil and gas blocks should rather be expanded to cover communities of the entire Niger Delta as simply giving a few individuals from the Niger Delta oil and gas blocks will not create the wealth need to move the region forward.
"The reason is because our region is suffering from institutional and systemic poverty, therefore, clusters of communities within all ethnic nationalities should be granted oil and gas blocks as doing so will create wealth which the people are starved and which prevents the people from enhancing their potentials.
"What the Niger Delta needs is sincerity from this present administration particularly when it cannot be argued that the current resurgence of violence and insurgency resulting in the bombing of oil and gas facilities is occasioned by the current administration's approach to issues relating to the Niger Delta region and its people."
Copyright Ships & Ports Ltd. Permission to use quotations from this article is granted subject to appropriate credit given to www.shipsandports.com.ng as the source.