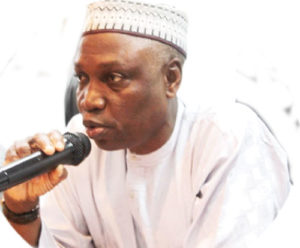 A civil society group under the aegis of Initiative for Leadership and Economic Watch has lauded the Managing Director of the Federal Airports Authority of Nigeria (FAAN), Engr Saleh Dunoma for the improved operation in the nation's airports.
The Executive Director of the group, Ambassador Splendour Agbonkpolor in a press statement said there has been an improvement in the operations of FAAN and urged Dunoma to ignore his detractors and remain focused.
Agbonkpolor noted that Dunoma had introduced unique initiatives, blocked leakages and jacked up revenue generation of FAAN within the period he has served as the MD.
He explained that Dunoma's sterling innovations have revitalized and strengthened FAAN and elevated the international rating of Nigeria's aviation notches.
"It is on record that our airports across the nation were in a comatose state with periodic air mishaps before the appointment of Engr. Saleh Dunoma who has now reversed that ugly and unsavory trend that threatened other sectors of our economy as investors were wary of travelling on our air space".
"The scenario of cattle and other forms of animals grazing and straying into the airport tarmac and disrupting flight operations have also been eradicated and security has been strengthened at our Airports especially with the parameter fencing".
"These improved security and safety measures have helped to significantly restore confidence in the Nigerian Airports, with an attendant influx of foreign investors and tourists who can rely on the safety and security of our air ways".
"Engr. Saleh Dunoma has demonstrated patriotism, selflessness and portrayed excellence in serving our Fatherland and as such should be applauded for same", Agbonkpolor said.
Agbonkpolor said the performance of Dunoma in FAAN was in tandem with the agenda of the administration of President Muhammadu Buhari and urged the MD to double his efforts in sanitizing and repositioning the agency.
Copyright Ships & Ports Ltd. Permission to use quotations from this article is granted subject to appropriate credit given to www.shipsandports.com.ng as the source.