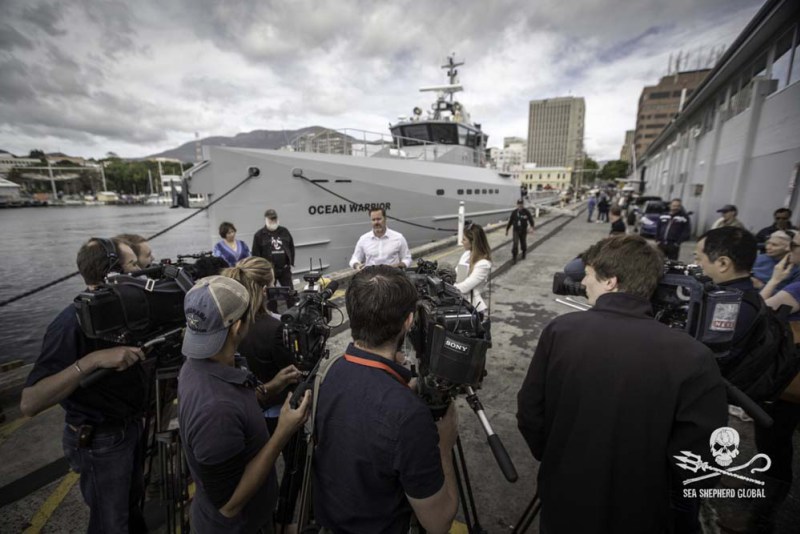 After final preparations in Australia, two Sea Shepherd vessels are now on their way to the Southern Ocean to intercept the Japanese whaling fleet in a bid stop their slaughter of Minke whales, Sea Shepherd Global said.
The marine conservation organization's flagship vessel the Steve Irwin departed for their 11th whale defense campaign, Operation Nemesis, on Saturday from Seaworks, Williamstown in Melbourne, followed by the fast patrol vessel the Ocean Warrior, which departed from Hobart, Tasmania on Sunday.
The ships are sailing to the Southern Ocean in an effort to prevent the Japanese whaling fleet, which left Japan on November 18, from killing up to 333 minke whales.
"Sea Shepherd shouldn't have to be taking on the whalers again this summer," Peter Whish-Wilson, Australian Senator, said.
"Australia won the International Court of Justice case against Japan, but unfortunately the government put trade deals ahead of whales and removed all diplomatic pressure," Whish-Wilson added.
"It's time that Japan respected the International Court of Justice, the Australian Federal Court, and the global moratorium on commercial whaling and ended their so-called scientific lethal hunting of whales off the Antarctic coast," Jeff Hansen, Managing Director of Sea Shepherd Australia, said.
Sea Shepherd said that this is the second time the illegal Japanese whaling fleet has returned to the Southern Ocean since the 2014 International Court of Justice ruling. The move comes after 333 minke whales were killed in Japan's latest Antarctic Ocean "research mission" earlier this year.
Prior to the launch of the earlier whaling season, Japan's Ministry of Foreign Affairs said that the country plans to catch up to 333 minke whales on an annual basis in the following 12 years.
Japan's "scientific research" program used to justify the killing of whales has been rejected by the International Court of Justice and the International Whaling Commission's scientific committee. In 2015 the Australian Federal Court fined the Japanese whalers AUD 1 million for hunting within an Australian whale sanctuary, however it remains unpaid, Sea Shepherd Global informed.
Copyright Ships & Ports Ltd. Permission to use quotations from this article is granted subject to appropriate credit given to www.shipsandports.com.ng as the source.