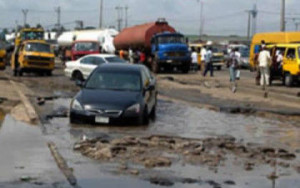 The National Cashew Association of Nigeria (NCAN) has called for urgent palliatives to the deplorable road within the Apapa and Tin Can Island ports to ease the export of goods.
National President of the association, Tola Faseru, made the appeal at a media briefing on Thursday in Lagos.
Faseru said the deplorable road was threatening the recent boost in non-oil export of the country.
"The state of the Apapa and Tin Can ports (roads) is intolerable, since the government is working hard to see that export grows, we need to balance trade by exporting.
"The situation at the port is not good for exporters, because what we export are perishable and when we delay on the road from the warehouse to the port, they lose quality. This leads to revenue loss.
"So we need to do something drastic and we need to do it fast because it is an embarrassment, exporters are losing reputation internationally due to this," Faseru said.
Besides, he said that most of the warehouses were full of commodities that could not be exported due to the deplorable roads.
"Right now, our warehouses are loaded with commodities and we cannot export, our capital is tied down and it is bad for business.
''As it stands, we will not be able to patronise farmers.
"Some exporters who borrowed money are finding it difficult to meet their financial responsibilities.
He also urged government and the Nigerian Ports Authority to give priority to exporters of commodities in line with the Federal Government's export agenda.