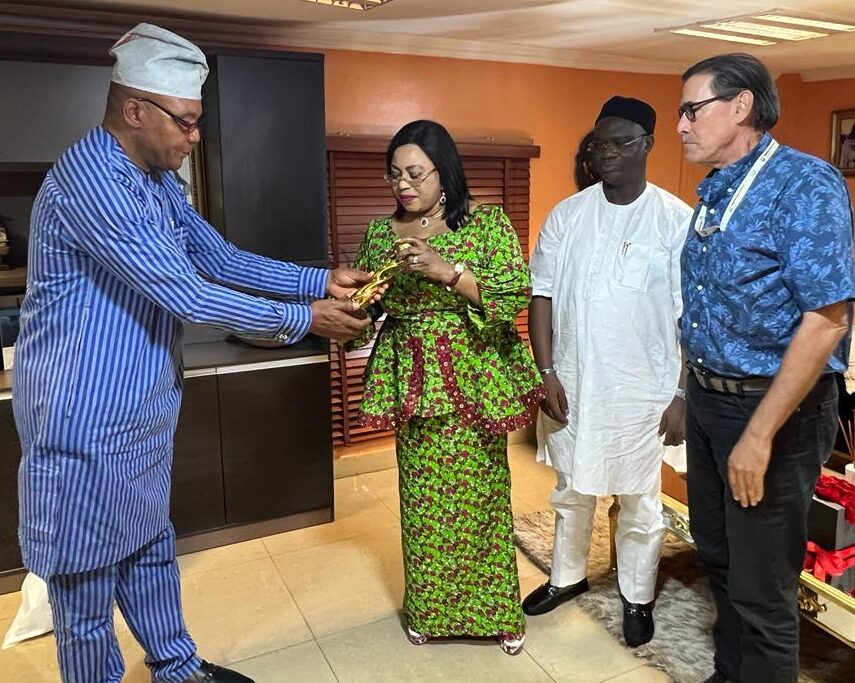 The Chairman, Seaport Terminal Operators Association of Nigeria (STOAN), Princess Vicky Haastrup was on Friday honoured with an award by the Maritime Workers Union of Nigeria (MWUN). 
The "Award of Honour" was presented to Princess Haastrup by the President-General of MWUN, Comrade Adewale Adeyanju and the Deputy Secretary General of the union, Comrade Oniha Odigie, on behalf of the union's Shipping Branch Women's Wing in recognition and appreciation of Haastrup's "excellent achievements and laudable contributions, dedication and commitment to positive development to humanity in the maritime industry". 
In addition to being the Chairman of STOAN, Princess Haastrup also serves as the Executive Vice Chairman of ENL Consortium – operators of Terminals C and D at the Lagos Port Complex, Apapa. 
The union leaders, who spoke highly of Princess Haastrup, commended her for her patriotism and commitment to the welfare of port workers, especially dockworkers. 
Princess Haastrup constantly fights for the welfare and wellbeing of dockworkers and for women in the maritime industry. 
"Our ockworkers are key workers. We must continue to fight their course because they cannot fight for themselves. I am their greatest advocate and I am happy that since we came on board as port operators, we have placed their wellbeing right on the front burner. 
"Today, I am happy that our dockworkers have conditions of service and are well paid unlike the ill treatment meted out to them in the pre-port concession era," she said. 
The STOAN Chairman commended the President-General of MWUN, Comrade Adewale Adeyanju and his team for maintaining peace and orderliness at the port. 
"I must commend the leaders of the Maritime Workers Union of Nigeria for their maturity. Indeed the union has evolved and become a partner in progress at the port. Gone are the days of unnecessary work stoppages and acrimony. We all work together for the common good and for the progress of Nigeria," she said. 
Haastrup charged the Federal Government to repair the dilapidated port access roads and clear gridlock on the road, especially on the Mile 2-Tin Can port corridor to reduce the hardship faced by port workers in the course of commuting to and from work. 
"We appeal to the Federal Ministry of Works and Housing to prevail on the contractor to hasten repair work on the road to reduce the sufferings of port users and port workers. We were promised that the road would be ready in December 2021 but it is not ready six months after. This is not good enough," Princess Haastrup said.
Copyright Ships & Ports Ltd. Permission to use quotations from this article is granted subject to appropriate credit given to www.shipsandports.com.ng as the source.