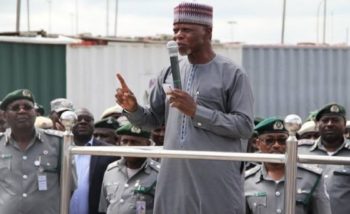 The Nigeria Customs Service (NCS) has created "Customs Police" as an internal mechanism to check and ensure discipline among its personnel.
The Comptroller General of NCS, Hammed Ibrahim Ali disclosed this on Friday during the commemoration of International Customs Day (ICD) held in Abuja.
He said, "within us we need to police ourselves and it is essential we have an internal mechanism to check and ensure discipline and to that effect we have just commissioned our own Customs Police."
He said the Customs police were trained at the Nigeria military police school in Zaria, Kaduna State.
ICD is a day set aside by the world customs organisation (WCO) for global customs community to celebrate with particular focus on a chosen theme.
This year's theme "A secure business environment for economic development" was delivered by George Onafowokan.
At the event partner agencies, private sector stakeholders and staff of the NCS who have distinguished themselves were given the WCO award.