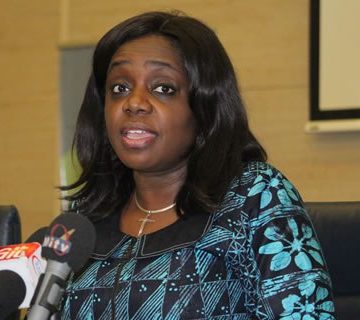 The Minister of Finance, Kemi Adeosun says plans are on ground to increase the salary package for the staff of Nigeria Customs Service (NCS).
Several NCS officials have complained of poor remuneration of late. 
But Adeosun, who was represented by Director of Home Finance, Olubunmi Bola made the disclosure at the celebration of the 2018 International Customs Day on Friday in Abuja.
The Minister said she was "working tooth and nail to ensure that the salary package for the service is increased and allowances are paid".
Also speaking at the event, the Comptroller-General of Customs, Hammed Ali said the service would soon come up with a policy to mop up arms that were circulating in the society.
The policy, according to him, would be not only to check the influx of weapons into the country, but also to control the coming of other illicit items.
Ali revealed that managing borders had become the most difficult issue and to tackle the challenge, the West African region formed the Securité Par Collaboration (SPC++) comprising of Nigeria, Niger, Chad, and Cameroon.
He noted that the idea behind SPC++ was to sit as Customs Services and "look at our boarders and look at how it is managed. The global problem for the Customs is managing boarders, especially for Nigeria, where we have 4,070 kilometer of land boarders. There is nowhere in the world that anyone can extensively cover that.
"We need the collaboration with each and everyone of us. We need to join hands with our neighbours and that is only how we can effectively police our boarders and ensure what we see in Libya and other countries that arms do not find their way into our territory.
"Already we have enough of it, and I hope we will soon come up with a policy on how to retract these arms that are circulating within our publics. But why we are doing that we thought we should also come up with a comprehensive mechanism to be able checkmate not only weapons arms but all illicit items into our territory."
The Customs boss however announced that the service had unofficially banned the importation of rice.
According to him, the Central Bank of Nigeria, responsible for the issuance of Form M for the importation of rice, had not issued it to any importers since 2017.
He concluded that any parboiled rice that that was not locally produced in Nigeria must have been smuggled into the country.
Urging Nigerians to ensure that their cooks and stewards buy locally produced rice, Ali said that whoever patronized imported rice was encouraging smuggling.
The Customs boss noted that a country cannot be said to be truly independent if it could not feed itself.
Ali said that "I am very happy to support what Mr. President said in his New Year address, that this year that we would ban the importation of rice completely.
"As at today, unofficially, rice is banned because since the beginning of 2017, Central Bank which is supposed to issue Form N which is the only permit for importation has not issued any Form M to rice importer.
"So, any parboiled rice you see, which is not our own local rice must have been smuggled in. So, if you go to buy this, then you are encouraging the smugglers and therefore negating the growth of our economy.
"Any country that cannot feed itself cannot claim to be independent and I think we want to be independent." 
Asked how much revenue, the NCS was targeting to achieve this year, he said that "it is our prayer that we should be able to overshoot what we had done last year. It is our prayer that we should be able to get to N1.5trillion this year."
The theme of the 2018 Customs Day was "A secure business environment for economic development".