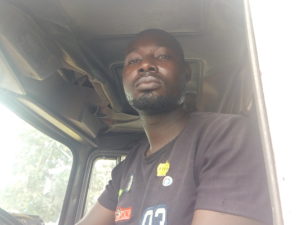 They are doing their best. However, since the operation began last Friday, I have been in this traffic. We were told to move to Lilypond; I only got out of there this morning. That said, am yet to see the solution to the gridlock. The major problem is the road; it is not good at all and is the cause of the gridlock.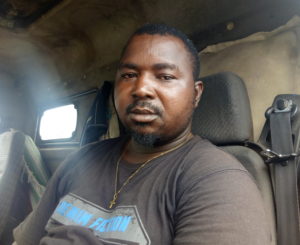 The Operation Restore Sanity is not working. There is still traffic; serious one at that. Since last Friday, I have been on this Ijora Bridge without movement. The only thing security operatives did was to create a lane for private cars to move but for trucks, no way.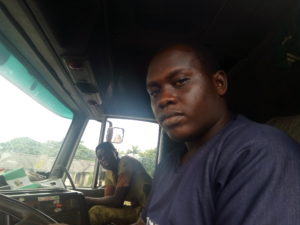 I came into Lagos from the East today. Everything has been going on fine unlike my previous trip. I like the fact that there is law and order on the road. In the past, there was so much lawlessness; drivers were beaten and their side mirrors, broken. I am confident that the days ahead will be better than today.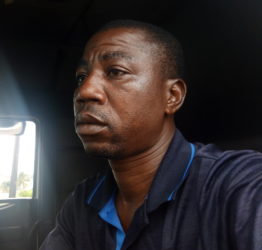 It is working but not as expected.  I am really tired of the traffic situation. I have been on this queue for the past four days, from Costain to get to tail end of the Marine Bridge. There are other truck drivers who are still stuck in traffic and they have spent close to two weeks. I also had to part with some money to be able to get to the tail end of the Marine Bridge.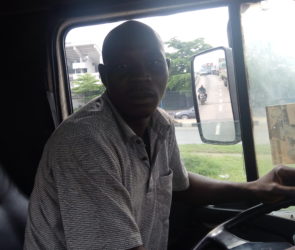 Since yesterday, I have spent nothing less than N30,000. I was told to turn back from Costain. That meant I had to spend another money to get to Marine Bridge. All the security operatives asked me to move out from this traffic; if you don't have money, you will remain in one spot like it is your parking space.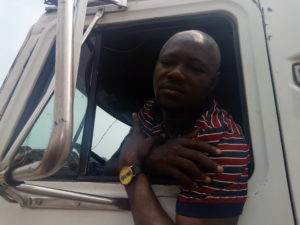 It is working but not like before; there is still much to be done. Right on this Marine Bridge, there is no gridlock, but when you go out there like Costain and other places, that is when you will know. I have been on this Ijora-Olopa Bridge for the past five days before I got to this Marine Bridge.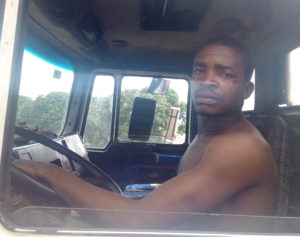 The road is not good at all; it is deteriorating every day. I have been on this Marine Bridge for two days now; I have not even taken my bath. We are pleading to the government to come to our aid.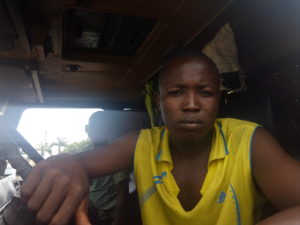 It is not working well. Most of us nearly got to Ijora Bridge before we were turned back. Some other drivers had to pay security operatives money to be allowed to pass. The security operatives are still fond of collecting money from us. I was affected by their actions. I was turned back as I approached the Ijora Bridge. I had to go and make U-turn at Onipanu to join the queue. I would have loaded my container since.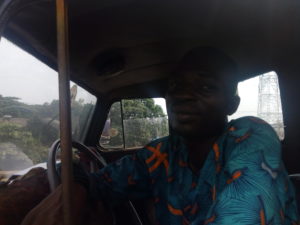 I cannot see any improvement. They are not doing anything here. I have been in this gridlock since yesterday at Ijora-Olopa. Nobody is doing anything. The traffic is terrible.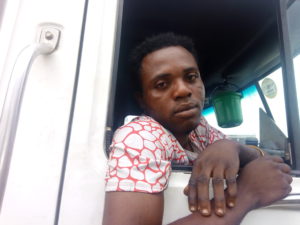 I cannot see any changes. Since last Friday around 12 noon, we were asked to leave the bridge that the security operatives wanted to clear the road. We all moved our trucks, parked and left for home. I have been in this gridlock since on Monday. I cannot see any changes. I have used 48 hours already. I am yet to get to Wharf. Before I get to Wharf, where I am going to load my cargo, it might take me till tomorrow. I thank God they don't beat drivers like before. When they turn, you turn.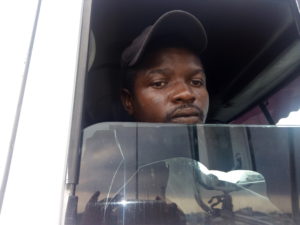 The security operatives such as the navy and army are extorting money; that is why they do not let us move. If you go Ijora area, it is free. We want the queue to move smoothly because we are tired of all of these. Everyone should be allowed to move without partiality. The Operation Restore Sanity is not working.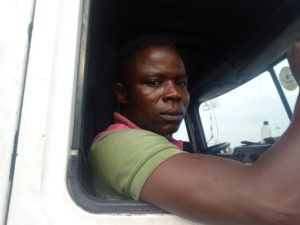 I don't think the Operation is working at all. Despite their effort to clear traffic, it is still there. Security operatives are harassing trailer and truck drivers as we are the cause of the traffic, instead of the road.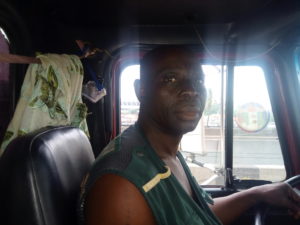 We have been on this Stadium Bridge without knowing what is really happening inside Apapa port. We were just following the queue until we got to Ijora. Meanwhile, I have spent about five days from Ojuelegba to reach this Stadium Bridge.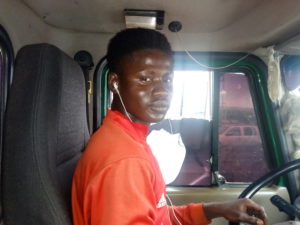 This traffic originated from the Terminals at Apapa Wharf. But some naval personnel stopped us at Ijora side, Lilypond. Those carrying empty containers were allowed to enter Lilypond yard. Some were asked to turn back there. Those of us carrying the flat beds were not allowed to pass at all because of the gridlock. As we are on this Stadium Bridge, we can't have our bath, no good food to eat; we are suffering. If the government wants to repair the road, it is better to close the entire road so that we don't need to bother ourselves and all the trucks can stay at their various parks.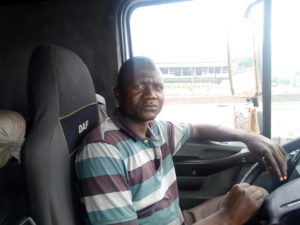 It is not working; we have been on this road since on Monday, the queue is not moving. We sent our colleagues to check what was going on at Apapa. They said inside of the port is jam packed so attempts are being made to clear it. At the moment, no empty container is going there and flat beds too.  But we later discovered that the Joint TaskForce which comprises navy, army and police were extorting money from some flatbeds to enable them gain entrance into the port. So, if you don't have money you can't go. Today is the fifth day I have been on the road, waiting to enter the port.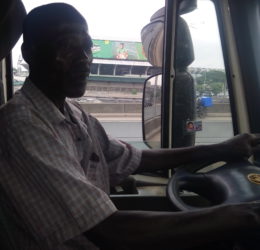 It is not working because the road is not good. At the moment Dangote is working on the road; this is partly why there's so much traffic. But I will like to commend the security operatives for their efforts in trying to clear the traffic. They are trying.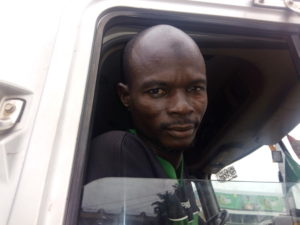 I just received a call from my colleague. He went to meet the security operatives that passed six trucks. According to him, the operatives were asking him to part with N2,000 for each of the trucks. I have been on top of this bridge since yesterday. There is no way I can move from this queue because I don't have that kind of money to part with. The security operatives are not letting us move without giving them money or else they will ask you to make a U-turn. They are the ones responsible for breaking our side mirror, brake lights, etc.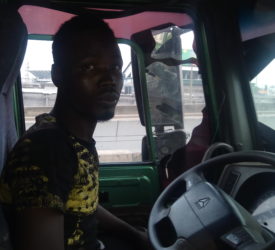 Two weeks ago, our union went on strike to protest against extortion. We asked them to reduce the amount they collect. Now I have been on this queue for three days. We are really suffering. We don't have any other job except to drive.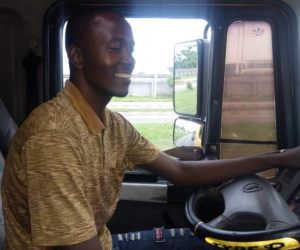 The cause of this gridlock is as a result of the construction work going on since last year. We cannot feel the efforts of the security operatives because there are so many trucks on the road trying to access the few available paths.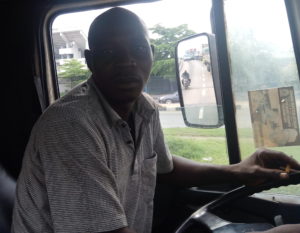 As a Dangote transporter, I often enter the port around 11pm; we have the privilege to enter the port at midnight. I can't go in now because of the traffic. It is closing time for workers that's why the gridlock is much. In the past, we used to bribe the security operatives with money to enable us access the port but I don't think we do so anymore.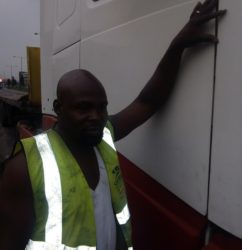 We have been here since Sunday inside this gridlock. The cause of this hold-up is well known to everybody. It is as a result of the bad roads. Once the road that is being constructed by Dangote is completed, this gridlock will be a thing of the past.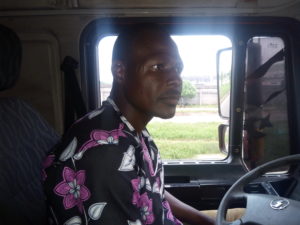 I joined this queue right from Onipanu. On getting to the road leading to CMS and Apapa, the Joint TaskForce will ask you to make a U-turn. So, this Operation Restore Sanity, I don't think it is working. I have been here since Monday. My motorboys abandoned me because of hunger. What we are supposed to do in just one day, we end up spending one week, two weeks, to load and offload cargo.
Copyright Ships & Ports Ltd. Permission to use quotations from this article is granted subject to appropriate credit given to www.shipsandports.com.ng as the source.