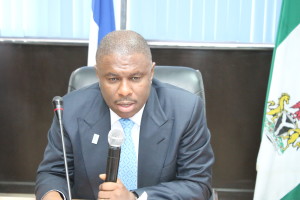 Director General, Nigerian Maritime Administration and Safety Agency (NIMASA), Dr. Dakuku Peterside has decried what he called prohibitive import duties charged by the Nigeria Customs Service on vessels built in Nigeria.
Speaking at the 6th Annual Conference of the Nigerian Society of Engineers, Marine and Naval Architecture (MENA) division on Tuesday in Lagos, Peterside said one of the major factors that led to the collapse at the West Atlantic Shipyard at the Onne Oil and Gas Free Zone is high customs duty slammed on its vessels, which made imported alternatives cheaper.
He said, "Last year, we went to Onne, West Atlantic Shipyard. I was horrified by the enormity of decay that had taken place there. 
"That shipyard had churned out over 500 metric tonnes size vessels before then but owing to some adverse economic downturns and the parlous state of the economy and the industry. That shipyard has now become a shadow of itself.
"One of the things they talked about was the prohibitive Customs duties that makes it cheaper to bring in vessels from China and Korea than actually building vessels here because the moment you build your vessel, yes the place is a free trade zone but as soon as it lands onshore, it attracts huge prohibitive import duties which wipe off whatever gains you may want to make on that vessel," Dakuku who was represented by the Executive Director, Operations, Engineer Rotimi Fashaki said.
He said the agency plans to hold talks with the Comptroller General of Customs, Hameed Ali on the need to reduce duties on vessels built in the country as part of efforts to encourage investment in the ship building industry in Nigeria.
He said NIMASA is also partnering with industry professionals towards growing indigenous capacity in shipping development in Nigeria.
"One of the things that we are doing as an agency is trying to make the right representation in government. We have had a kind of interaction with Nigeria Customs (Service) before now and we are still going to continue the interaction in order to build the right indigenous capacity that will attract less import duties in Nigeria so that Nigerian shipyards can hope to thrive and survive.
That is the only way you can encourage and bring the right investment in that area," he said.
Speaking on the theme of the event, 'The role of marine and infrastructure in sustainable economic development: Nigeria in focus', the Chairman of Starz Investment Company, Engr. Greg Ogbeifun, noted that with the exception of West Atlantic Shipyard, ship building in Nigeria is relatively non-existence due to lack of infrastructure such as power and a viable steel production industry.
He said to ensure that the sector achieves its full potential; focus needs to be placed on resuscitating the moribund steel industry and improving electricity generation. 
He said, "Our steel industry is key to the growth of ship building and ship repairs in the country. The power industry is vital as well, so government needs to take holistic look at this but more importantly even countries that have come to Nigeria to try and develop this sector have struggled because of fiscal policies of the government. The tax regime here makes it very unfavourable for the industry to strive."