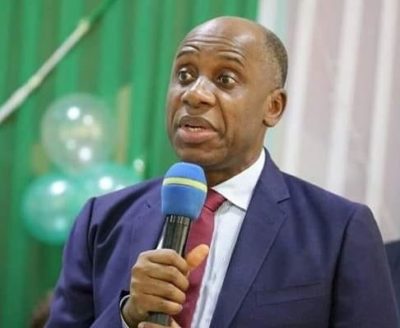 The former Minister of Transport, Mr. Rotimi Amaechi, stunned the maritime industry a fortnight ago when he said that whether HLSI Security Systems and Technologies Limited, delivered or not, it will collect full payment from government. HLSI Security Systems and Technologies Limited is an Israeli firm the federal government awarded a $195 million (N70.2) maritime security contract to combat piracy and other illegal activities on the nation's territorial waters. It is on this contract the nation now hinges its hope of sanitizing her territorial waters. It is also on the contract that the success of the much-orchestrated Nigeria's Deep Blue Project, a gigantic maritime security package, depends.
It is, therefore, shocking that such a statement would come from the former minister who conceived, pushed and defended the contract before it was eventually approved by the President and the Federal executive Council (FEC). What really is the implication of this statement? Does it mean that the minister has sensed the imminent failure of the maritime security contract? Or is that as the writer of the script that is being played out, he knows the end of the entire drama?
That the HLSI maritime security contract is heading for failure, however, is becoming too obvious to the average maritime observer. The controversial maritime security contract which has a three-year lifespan has already run for two years during which its effect has not been felt in any way. So far, the contract has failed to address piracy, sea robbery, oil theft and other criminal acts on Nigeria's territorial waters as promised by the promoters of the contract headed by Amaechi.
Instead of piracy and other criminalities abetting on the nation's waters, they are assuming an alarming proportion. Three weeks ago, the International Maritime Bureau (IMB) Piracy Reporting Centre declared the seas around Nigeria as the world's most dangerous for piracy. According to the international piracy watchdog, of the 75 seafarers taken hostage onboard or kidnapped for ransom worldwide so far this year, 62 were captured in the Gulf of Guinea, specifically off the coasts of Nigeria, Guinea, Togo, Benin and Cameroon. The Bureau also said that of the nine ships fired upon worldwide this year, eight were off the coast of Nigeria, warning seafarers to be careful when they enter Nigeria's territorial waters.
Worse still, while this controversial contract is running, the Nigerian Maritime Administration and Safety Agency (NIMASA), continues to spend US$174,000 (N53.4 million) monthly to hire security patrol vessels –services which ought to be provided by HLSI under the contract.
All these and Amaechi's recent declaration raise questions about the integrity and impact of the contract on Nigeria's gruesome fight against piracy and illegal activities in her territorial waters. One fears that the nation has been taken for a ride or merely fleeced.
We recall that this maritime contract did not have a smooth sail when it was first introduced. It was dogged by controversy. After initial FEC and presidential approval, President Buhari had to cancel it on the ground that he had been deceived. The House of Representatives also rose up against it when it felt that the contract was rather hazy. But somehow, Amaechi and his fellow promoters eventually had their way.
Not long ago, just a few weeks before he left office, Amaechi said that HLSI Security Systems and Technologies Limited had brought in two helicopters, 20 speed boats and other equipment to tackle insecurity on Nigerian waters. At the valedictory press briefing, Amaechi acknowledged that Nigeria's maritime domain and the entire Gulf of Guinea were extremely bad and the worst in the world. He added, "but we are about to clean it up".
With this declaration and the stout defence by Amaechi of the maritime security contract before and after the award, one is therefore confused as to what is really going on. One serious negative implication of Amaechi's statement and the imminent failure of this maritime security contract is that it is likely to raise doubt within the world maritime and shipping community about Nigeria's seriousness and sincerity in its fight against piracy and illegal activities on her territorial waters. It also signals the failure of government's Deep Blue Project which is being packed and sold to the world as Nigeria's ultimate response to the scourge of piracy, kidnapping and armed robbery on her waters, and indeed, the Gulf of Guinea.
Nigeria has talked so much about the Deep Blue Project. The NIMASA DG, Dakuku Peterside, in fact, boasted about it at an international gathering of shipping operators in Norway early in the year. He had told the world that Nigeria had invested heavily on intelligence and maritime security assets. These investments, he said, were made under Nigeria's Deep Blue Project which involves the acquisition of two special mission aircraft, three helicopters and unmanned air vehicles. Others are two special mission vessels and 17 interceptor patrol crafts.
This is in addition to the land assets which include 16 armoured vehicles and an intervention team of 340 highly trained personnel. The entire project is also complemented by satellite technology that will monitor Nigeria's exclusive economic zone and feed real time information to a command and control centre.
These are assets and services that HLSI Security Systems and Technologies is supposed to provide. Casting doubt on the success of the contract is, therefore, untenable.
We do not want to believe that the contract has failed. If it has not, we make bold to assert that the former minister's statement is most indiscreet. The relevant authorities should, therefore, come out to reassure Nigerians and indeed the whole world that Nigeria's maritime security project is still on course. This will dispel fears that the current situation in Nigeria's maritime domain can only grow worse. It will also save the face of Nigeria, and wipe away the impression that Nigeria is not sincere in its efforts to combat piracy.
Copyright Ships & Ports Ltd. Permission to use quotations from this article is granted subject to appropriate credit given to www.shipsandports.com.ng as the source.