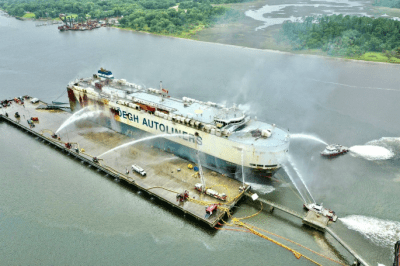 The major fire on board the Hoegh Xiamen has burned out after smoldering for more than a week at a dock Blount Island in Jacksonville, Florida, the Jacksonville Fire and Rescue Department said Friday.
Fire fighters had been battling the fire since it broke out on June 4 in the ship's cargo area. A subsequent explosion resulted in injuries to eight fire fighters, including two with serious burns. A video posted to social media shows the explosion.
All 21 crew members were uninjured in the fire.
The fire has been under control since Tuesday but continued to burn on board.
The 4,900 CEU capacity Höegh Xiamen is registered in Norway and was built in 2010. It is operated by Höegh Autoliners on a service connecting East Asia with North America and the Caribbean via the Panama Canal.
Jacksonville's JAXPORT is one of the leading auto ports in the United States with more than 695,000 vehicles moved in 2019.