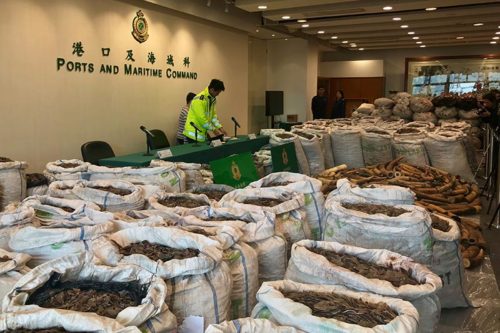 Hong Kong Customs on Friday said it intercepted a record HK$62 million, ($7.90 million) worth of pangolin scales and ivory tusks from Nigeria in a shipping container destined for Vietnam.
It added that this is the largest single seizure of pangolin scales in Hong Kong.
The customs in a statement said the 8,300 kilos of pangolin scales and 2,100 kilos of ivory were discovered hidden inside a container declared to be carrying frozen meat.
The Head of Command at Hong Kong's Customs and Excise Department, Yueng Ka-yan, said the smugglers used a new method to hide the endangered species by a process of 'solidification' where they used ice bags and frozen meat to obscure the species.
A man and a woman from a trading company in the city have since been arrested, he added. 
Copyright Ships & Ports Ltd. Permission to use quotations from this article is granted subject to appropriate credit given to www.shipsandports.com.ng as the source.