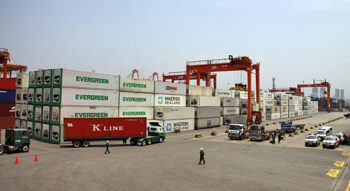 Manila-based container terminal operator International Container Terminal Services Inc. (ICTSI) has terminated an agreement to develop and operate a container terminal within Lekki Port, Lagos. 
ICTSI's subsidiary, Lekki International Container Terminal Services LFTZ Enterprise (LICTSE), and Lekki Port LFTZ Enterprise (LPLE) agreed to terminate the sub-concession agreement signed in 2012, citing delays in the execution of the project as the main reason.
However, findings by SHIPS & PORTS DAILY revealed that the hostile stance adopted by some government agencies against investors at the nation's seaports was the underlying reason behind the company's decision to pull out of the project. 
"The present environment is not encouraging to investors. Expect to see more negative reactions like this in coming months," a source at Lekki Port LFTZ informed SHIPS & PORTS DAILY. 
The terminated sub-concession agreement had granted LICTSE an exclusive right to develop and operate, and to provide handling equipment and container terminal services, at the container terminal within the port located at Ibeju Lekki, Lagos State, for a period of 21 years.
The termination of the sub-concession agreement was deemed effective as of Wednesday, May 24.
The project, initially slated for completion in 2016, called for the development of a container terminal with a 2.5 million TEU capacity capable of handling 10,000 TEU container ships. The terminal was to feature a 1,200-meter quay with 14 Post-Panamax cranes, making it one of the largest single terminals in Sub-Saharan Africa.       
Copyright Ships & Ports Ltd. Permission to use quotations from this article is granted subject to appropriate credit given to www.shipsandports.com.ng as the source.