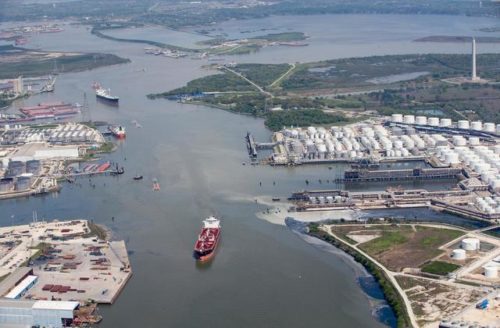 The Houston Ship Channel reopened to two-way traffic on May 15, less than a week after a collision between a K Line tanker and a tug pushing two barges closed the waterway.
Vessel traffic has returned to normal as salvage crews removed the two damaged barges, that were each carrying an estimated 25,000 barrels of gasoline blend stock.
According to Bayport Channel Collision Response, a group overseeing cleanup and salvage operations, the removal of the Kirby Corp-operated barges was completed by midday on Wednesday.
At the time, forty-one vessels were awaiting inbound passage through the 85-km-long channel, while 24 were awaiting outbound passage.
Skimming vessels continued to collect the spill at the initial incident site. Crews will assess shorelines for any remaining presence of product, Bayport Channel Collision Response said, adding that boom placed in some sensitive areas over the last several days would begin to be removed once those locations are determined to have sustained no impact from the spill.
The 755-foot tanker Genesis River collided with the tug Voyager in the afternoon hours of May 10. There were no crew injuries associated with the incident and the cause remains under investigation.