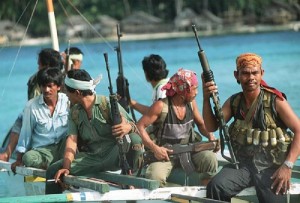 A Vietnamese-flagged ship identified as MV Phu An 268 managed to escape pirate hands while sailing through Philippine waters on Sunday, March 5.
A boat with six men started tailing the general cargo ship on Sunday afternoon while it was sailing off Lihiman Island, the Philippines and attempted to intercept it, IMB Piracy Reporting Centre said.
According to the report, after being followed for around 1.5 hours, the ship increased speed and activated fire hoses.
The ship's master sent out a distress signal which was picked up by Malaysia's Eastern Sabah Security Command (ESSCOM) that sent a patrol boat to the scene.
Apparently, ESSCOM's presence scared off the suspected pirates forcing them to abandon their plan of boarding the ship. Following the arrival of the patrol boat, MV Phu An 268 was escorted to Sandakan port. All crew are reported to be safe.
Copyright Ships & Ports Ltd. Permission to use quotations from this article is granted subject to appropriate credit given to www.shipsandports.com.ng as the source.