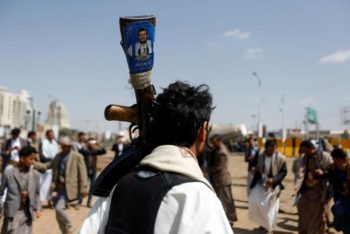 Yemen's Houthi group hit a Saudi oil tanker off the main port city of Hodeidah on Tuesday, according to a coalition led by Saudi Arabia. 
The coalition said the attack could complicate a new United Nations push to end a war that has killed more than 10,000 people in the region. 
The Iranian-aligned Houthis said they had targeted a coalition warship in response to an air strike on Hodeidah on Monday that killed at least a dozen civilians, including seven children.
Tensions have been rising in recent days after the Houthis, who control most of northern Yemen, launched a series of missile strikes on Saudi Arabia, including the capital Riyadh, in recent days.
In a statement carried by Saudi media, the coalition said the oil tanker was in international waters when it came under "Houthi-Iranian attack" at around 1330 local time (1030 GMT).
A coalition warship conducted a "swift intervention" foiling the attack, it said, without identifying the type of weapon used in the assault. 
"As a result of that attack, the tanker was subjected to a slight but ineffective hit and it resumed its naval course northwards, escorted by a coalition warship," the statement said.
A European Union naval force that operates in the region confirmed the ship was underway, adding that the crew were safe and unharmed.
The media department of the Houthi-run Yemeni military said naval forces had "targeted a battleship belonging to the coalition in response to the bombardment of displaced people in Hodeidah." 
The department's text message was referring to an air strike by the Saudi-led coalition on Monday in Houthi-controlled Hodeidah that destroyed a house and killed 12 civilians from the same family, including seven children.
A coalition spokesman said the alliance takes the report very seriously, promising a full investigation.
Last week, Saudi air defenses intercepted a flurry of missiles, and falling debris caused the first death in the capital Riyadh.
Saudi Arabia has accused Iran of supplying missiles to the Houthis, who have taken over the Yemeni capital Sanaa and other parts of the country. 
Tehran and the Houthis deny the charge.
Copyright Ships & Ports Ltd. Permission to use quotations from this article is granted subject to appropriate credit given to www.shipsandports.com.ng as the source.