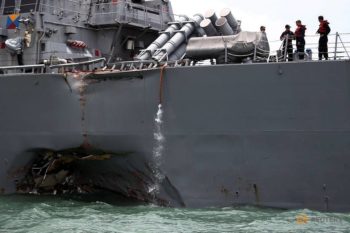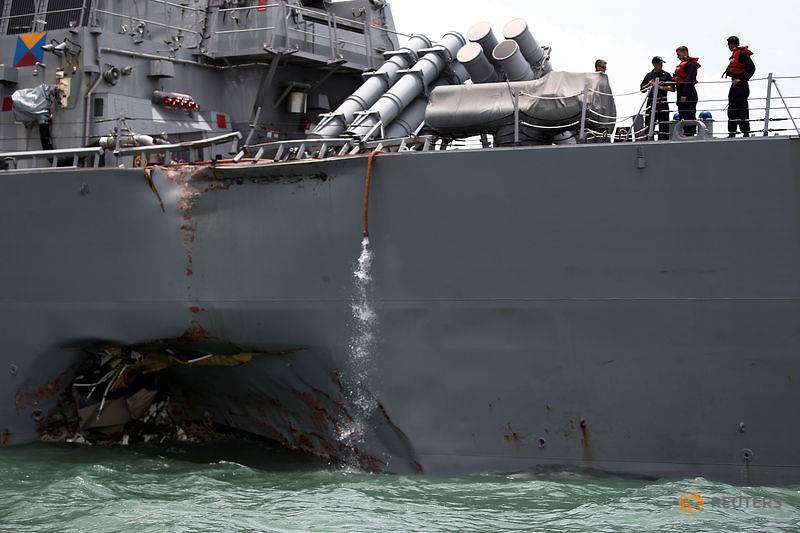 A sudden turn has been identified as responsible for the deadly collision of U.S. Navy warship, USS John S. McCain, with the Liberian-registered Alnic MC, a report issued Thursday by the Singapore government, said.
Ten sailors aboard the guided-missile destroyer were killed when their ship collided with the oil tanker, Aug. 21, 2017, near the Strait of Malacca in Singapore territorial waters.
The report by the city-state's Transport Safety Investigation Board disclosed that "a series of missteps" led the USS John S. McCain to make its fatal turn just minutes before slamming into the Alnic MC.
The USS John S. McCain is named after the father and grandfather of U.S. Senator John McCain, both of them prominent admirals.
Two months earlier, another U.S. guided-missile destroyer, the USS Fitzgerald, collided with a Philippine container ship off the Japanese coast, resulting in the deaths of seven sailors.
A report issued last November by the Chief of Naval Operations, Admiral John Richardson, found the collisions were "avoidable" and happened because of lax standards and poor preparation.
They included failing to plan for safety as well as failures in adhering to sound navigation practice and executing basic watch procedures.
The commanding officers of both the USS John S. McCain and the USS Fitzgerald are facing criminal charges, including negligent homicide, dereliction of duty and endangering a ship. Several other officers from both ships are facing either criminal charges or administrative actions.
Several senior naval officers were fired as a result of the incidents, including Vice Admiral Joseph Aucoin, the commander of the Pacific-based 7th Fleet, the Navy's largest.
Agency Report