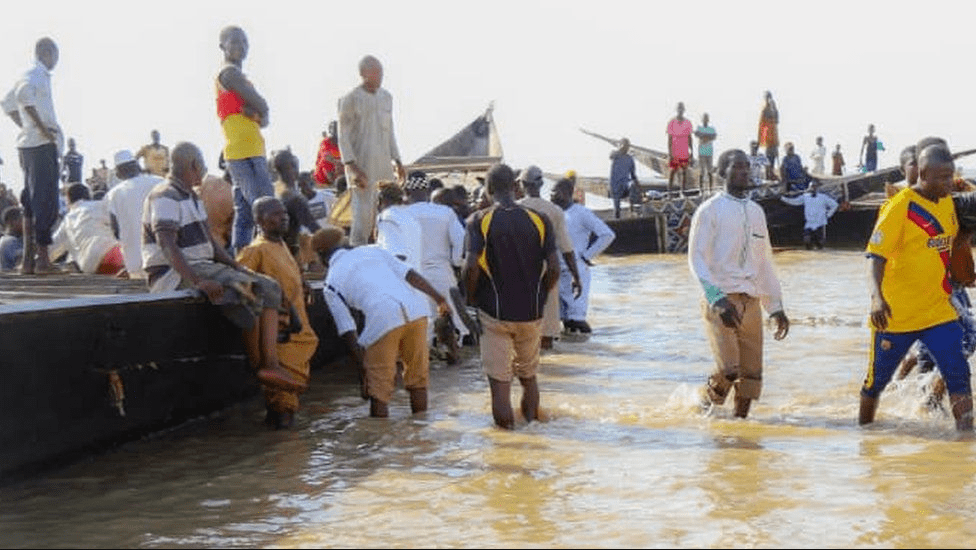 Boat accidents in various parts of the country claimed the lives of no fewer than 212 Nigerians between March and October this year, according to a compilation done by SHIPS & PORTS.
So far this year, 22 fatal boat accidents have been reported in 13 states namely Anambra, Bauchi, Bayelsa, Delta, Jigawa, Katsina and Kebbi. Others are Kogi, Lagos, Niger, Sokoto, Taraba and Yaba states.
The accidents, which were attributed to non-adherence to safety measures, occurred between March 23 and October 23. No fatality was reported on the waterways in January, April and February.
The first fatal boat accident in the country in 2022 was recorded in Yauri, Kebbi State on March 23 when four siblings drowned after a boat ferrying them, their father and two other passengers across the river to their farm capsized.
The most recent fatal mishap occurred in Lagos on Sunday October 23 when four persons, with three of them being from the same family, died after their boat capsized. Five days earlier, 15 people were reported dead in a separate incident after the boat they were travelling in capsized in Shagari Local Government Area of Sokoto State.
The worst boat tragedy in Nigeria so far this year was recorded in Anambra State on Friday October 7 when 76 persons lost their lives after a boat carrying 85 passengers from Onukwu to Nkwo Ogbakuba capsized.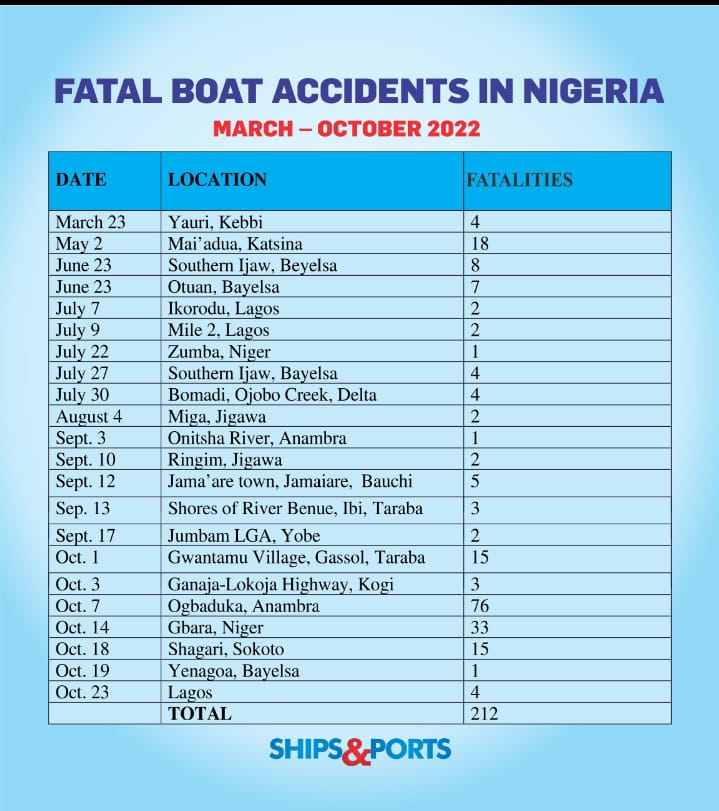 The Zonal Coordinator, National Emergency Management Agency (NEMA), South-East, Thickman Tanimu, said the 85 passengers boarded the boat in an attempt to escape to escape the rising water level in their community.
"What I suspected happened was that the water kept rising and the people were trapped. They decided to escape the rising water and 85 of them jam-packed inside the boat which capsized due to the rising flood. It is very unfortunate because the flood has covered many houses up to roof level. Out of the 85 persons, nine were found and the remaining 76 are nowhere to be found," he said.
Speaking with SHIPS & PORTS, the National President, Association of Tourist Boat Operators and Water Transporters, Tope Fajemirokun, blamed the National Inland Waterways Authority (NIWA) and other regulatory bodies for the incessant boat mishaps in the country.
"For instance, ask NIMASA how many driving license they have issued boat drivers this year, you will discover that it is extremely low. What about the logs and wrecks on our waterways? We can see glaring improvement as to the removal of the wrecks but they are not doing enough.
"The expectation which has been our yearning is the training and retraining of boat operators. Some of them are secondary school certificate holders. When you train them, let's say at six months interval, it refreshes their brain. Monitoring of boat operations and training of drivers should be at the forefront," Fajemirokun said.
However, the officials of NIWA, those of Lagos State Waterways Authority and the various state emergency management agencies have frequently laid the blame for the waterways mishaps and fatalities on the doorsteps of boat owners and drivers.