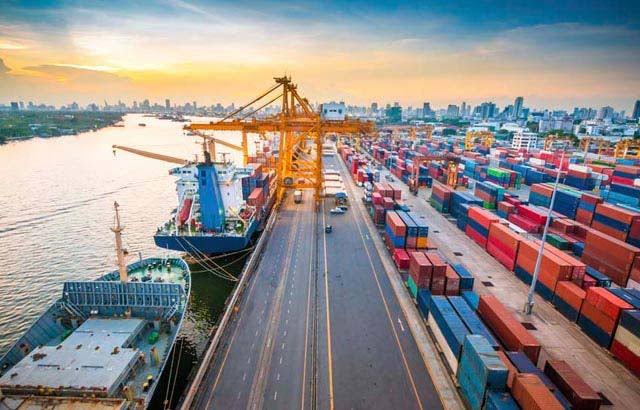 Compiled by Tosin Aribisala
Your question is intriguing. Nigeria attaining greener shipping is something that as a country we cannot be sure about but if we talk about ship owners meeting the requirements, it means we have to ensure that our ships are compliant in the sense that they are able to use the right kind of fuel and technology that will make the environment safer. As it were, the issue of sulfur content is kind of an advantage for us because the ships that will be operated will require new technologies to make sure that the emissions are reduced. So, if we want to acquire more ships, we must ensure that we are compliant and if we are going to harness the resources of the Cabotage Vessel Financing Fund (CVFF), we should think about sustainable ships that will last decades.
McGeorge Onyung
There is no indication that we are serious. Even the United Nations' Sustainable Development Goals talk about 2030 but here we are, Nigeria is talking of 2060. Are we serious? So, when are we going to actually key into what is happening globally? We need to put all hands on deck if we want to achieve greener shipping. I don't think we are serious yet.
Kayode Farinto
To start with, Nigeria has to attain greener shipping enforcement. First of all, the first regulations say that sulfur content should be 0.5%. If the country adheres strictly to the plans it has, for the next 50 years, there would be no sulfur content during the course of our shipping.
Oritsematosan Edodo-Emore
Yes, Nigeria can always attain greener shipping if there is a will. We are regarded as one of the maritime nations but we don't have a fleet neither do we operate functional ship construction yards. The Cabotage regime as it is now cannot be said to be fully functional too.
So, the industry needs to undergo serious repositioning. Once we are able to put the necessary structures in place such as the legislative reforms, laws, and policies that will help us to grow in tandem with global dynamics. It is only when we are able to do all those things, get the port operates at this level with other ports in the whole world, that is when we can say our attainment of greener shipping is in view. Get our legislation revamped to meet the global phenomenon. For us to migrate from the current era to what is required of our port operation or the shipping sector, it is paramount that certain areas in the technological clime must be improved upon. And improving those areas, costs will come in. So, how would they now spread this cost so that shipping companies alone will not impose costs on cargo to the extent that it will overburden the shippers? This is another area that must be given an attention.
Increase Uche
We can attain greener shipping through our surveyors and naval architects. They have to design the ship in a way that it will not be dangerous to the environment. Regulations enforcement agencies too should make sure that whatever they are doing, people must key in. They should make sure that the fuel being used by ships is quality. Then our industry from where these gases are being produced should also put a lot of things into action. If they are able to give us the quality that the ships are using, emissions will be drastically reduced.
Hope Maduka
The agencies who are in charge, like NIMASA where there is marine environment department and other agencies of government are in charge of offshore activities. So, people have to monitor how we are exploiting oil in our environment and make sure we are doing it in the right way without polluting our water and the marine environment. We have to make sure that these agencies of government do their work.
Captain Ezekiel Adewale Ishola
Shipping is international and when we want to play it, we won't play it Nigeria style. We have to play according to conventions and norms out there. There is no Nigerian way of doing international shipping. So we just have to go by international standards and then our public service has to be up and doing. We have a robust industry that can actually achieve it if everybody put their hearts together. We have government regulations and we look up to government agencies appointed to oversee port operations. It is achievable, it is not rocket science. We just need to be looking at our environment. If we check the pollution, we'll see bottles on our waterways which we don't have control over. These things come from the hinterland, so we need to tilt our attention to those areas. Lagos State, for instance, is a maritime zone and each local government has a responsibility to oversee the water channels. It's not the responsibility of one particular tier of government.
Nnamdi
The idea is to move from fuel to renewable energy like energy from the sun and all that. By 2050, Nigeria should have attained that level of using renewable energy. It is going to be a gradual process but the argument is, how much is Nigeria contributing to these environmental hazards because Nigeria does not even have ships? So, I think countries that have all these ships should find a way to reduce all these carbon emissions. As a matter of fact, all the ships coming to Nigeria are foreign ships. And this is painful because when these ships are coming to Africa, they won't take the same level of precautions they take when the ships are going to their own civilized world.
Ogbonna Ann
I think one of the focal concerns in Nigeria right now is the hike in diesel price. We need to find another alternative to using diesel. This is because with the use of diesel, you are causing more carbon into the environment, which consequently affects our health. So, alternative fueling is one option and then looking for ways to use technology to integrate customers and operators and reduce the time that trucks go and pick goods and deliver. My point is, a lot of trucks drop goods and return empty. Why can't they drop off goods and return full? Technology allows it that when a customer places a request for the truck to come to deliver its good, the trucker delivers the goods and says 'goods delivered'. Automatically his truck is registered as empty and another customer through technology says, oh empty truck going back to the port, I need you to take my shipment back to the port. By this, we are reducing unnecessary fuel emissions and empties but you're making money from every single activity.
Kelvin Monye
If we follow all the regulatory instructions and try to look at international standards, there's no way we are not going to do it earlier than people expected. We have the best seamen well trained, some within or outside. Going by what the Rector, MAN Oron said, the institution has begun to use renewable energy to replace diesel. So, if we really want to, we can, once there is provision to back it up.
Bassey Nkanang
Copyright Ships & Ports Ltd. Permission to use quotations from this article is granted subject to appropriate credit given to www.shipsandports.com.ng as the source.